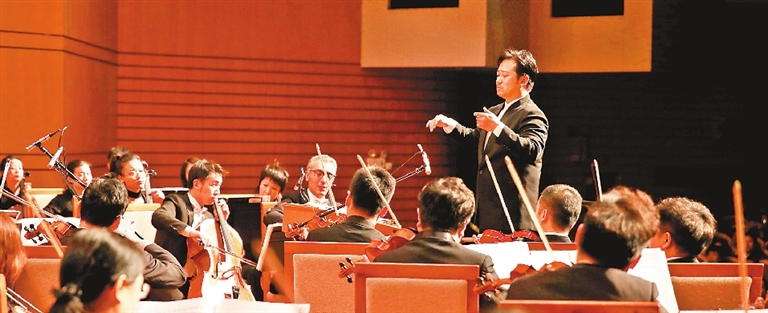 A CONCERT staged by the Shenzhen Symphony Orchestra ushered in the New Year of 2019 for Bao'an residents at the auditorium in Xixiang recently.
The concert was conducted under the baton of Lin Daye, music director of the Shenzhen Symphony Orchestra and winner of the sixth Solti International Conductors Competition.
With the curtain rising to the joyous melody of "Carnival Overture," audiences were treated to a full orchestra performance of evergreen Western musical hits from the tender love story told by Edward Elgar in his "Salut d'Amour," to fervent passions and stalwart beliefs of the martyrs portrayed in "Red Capriccio;" from "The Blue Danube" by Johann Strauss II, to "William Tell Overture" composed by Gioachino Rossini; and from "Candide Overture" by Leonard Bernstein, to "Voices of Spring Waltz" by Johann Strauss II. The concert also abounded with popular Chinese pieces such as "My Motherland" and "Ali Mountain Girl."
Co-hosted by the Bureau of Culture, Sports and Tourism of Bao'an District and the CPC Committee of Xixiang Subdistrict, the New Year concert is held on a yearly basis, with free tickets given away on official WeChat accounts.
In addition to the annual New Year concert, over 400 brand events and 10,000 mass-oriented activities have been held over the years by the district to forge itself into a cultural hub. A flash mob show produced by local art communities and a talent competition gathering street artists were highlights from last year. (Wang Haolan)