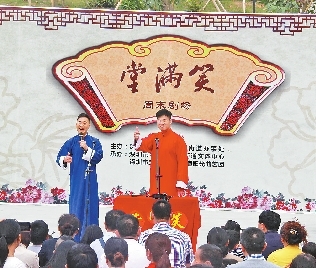 A PROVINCE-LEVEL research group in Guangdong folk art forms gave a thumbs-up to work done on preserving and reviving folk arts in Bao'an during their research trip to Shenzhen. The group also proposed some feasible suggestions.
During a symposium, Wu Huaqin, deputy secretary of the Party leadership group of the Guangdong Federation of Literary and Art Circles, encouraged Bao'an to make continuous efforts to get well-prepared for the fifth national folk art performance by training talented actors and creating new works. At the same time, Guangdong should work hard to become China's most-renowned province for folk art forms.
The research group proposed that the development and innovation of Bao'an folk art forms should be based on real people and real life. Accompanied by Zhang Huijuan, chairman of the Bao'an Ballad Singers Association, the research group visited Fuyong Subdistrict's Xiao Man Tang (Hall of Laughter) in Bao'an, a cultivation and performance base for Chinese folk art forms.
In recent years, some original works by the Bao'an Ballad Singers Association including "Fellow Countrymen," "A Niu Sonata" and "Story of a Good Man" have all received province-level awards. The theaters of the association such as Happy Supermarket and Xiao Man Tang have earned recognition for their contribution to promoting folk arts.
Currently, Bao'an Experimental Folk Art Troupe, Shenzhen Times Trend Art Troupe, and Sunshine Troupe are all playing an active role on stage, contributing their own efforts to folk art culture of Bao'an, the city and the province.
In recent days, the original China allegro "Special Wedding," jointly created by the Shenzhen art troupe Xiao Man Tang and Sunshine Troupe, was staged on the Cultural Palace of Nationalities in Beijing during a folk art show celebrating the 40th anniversary of reform and opening up.
The Shenzhen program received unanimous acclaim from the juries and audience. The work bases its story in Pengzhou, Sichuan, and reflects China's glorious development from the reform and opening up in a humorous way.
Crosstalk program "Sharing Era" created and performed by Bao'an artists also stood out among the over 100 programs staged at the Fourth Guangdong Folk Art Competition and won the first prize of program award and the first prize of literary award in the professional category.
(Chen Xiaochun)