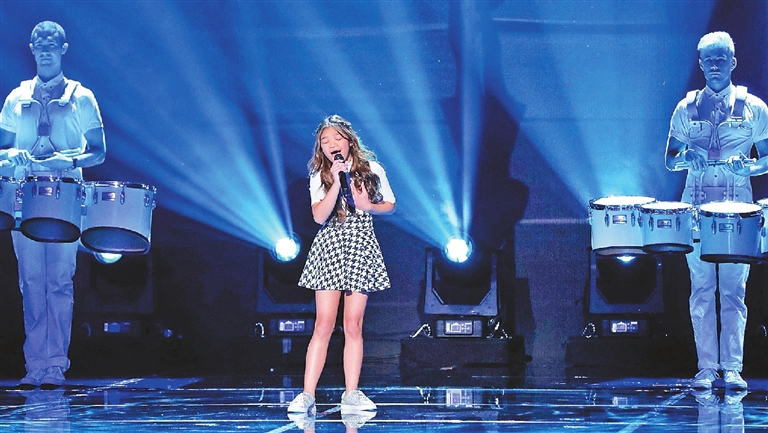 At just 10 years old, Angelica Hale has made history as the first-ever "America's Got Talent" contestant to earn two Golden Buzzer wins.
The young singer from Atlanta, Georgia, who lost season 12 to winner Darci Lynne Farmer, earned judge Howie Mandel's coveted prize on Monday's episode of "AGT: The Champions" with her powerful performance of Rachel Platten's 2014 hit, "Fight Song."
"This is a dream come true!" Angelica tells PEOPLE. "When I found out that I was actually the first person to get two Golden Buzzers, I was just shocked! Oh my gosh! It really is so surreal."
In 2017, guest judge Chris Hardwick called her "The Chosen One" and bestowed his Golden Buzzer to the star, who was diagnosed with Sepsis and had a life-saving kidney transplant at age 4.
Angelica reveals she was strategic with her song choice for the audition.
"I wanted to send a message, telling [judges and fans] this is my fight song and I can put up a fight! I'm going to fight for my place on 'Champions,'" the pre-teen says. "I was competing against some of the most amazing talents so I knew I had to step it up. I had to step up my game so the song I chose had a lot to do with me and my past."
Angelica is one of the youngest acts in the spin-off, but she's already a seasoned professional.
"I wasn't scared. I told myself, 'I've done this,' and performed in front of the judges and all these people before so all I need to do is have fun and everything will be okay," she says of returning to the AGT stage.
Describing Champions as "so crazy" and "different," Angelica also says she hasn't let the pressure of the competition get to her head.
"It's going to be some real tough competition but I told myself, 'Have fun out there,' and nothing can go wrong if I am myself," she recalls. "I really did have fun out there and it was one of my favorite AGT performances. It was so surreal to be back on AGT again. Getting the Golden Buzzer again was mind-blowing." (SD-Agencies)