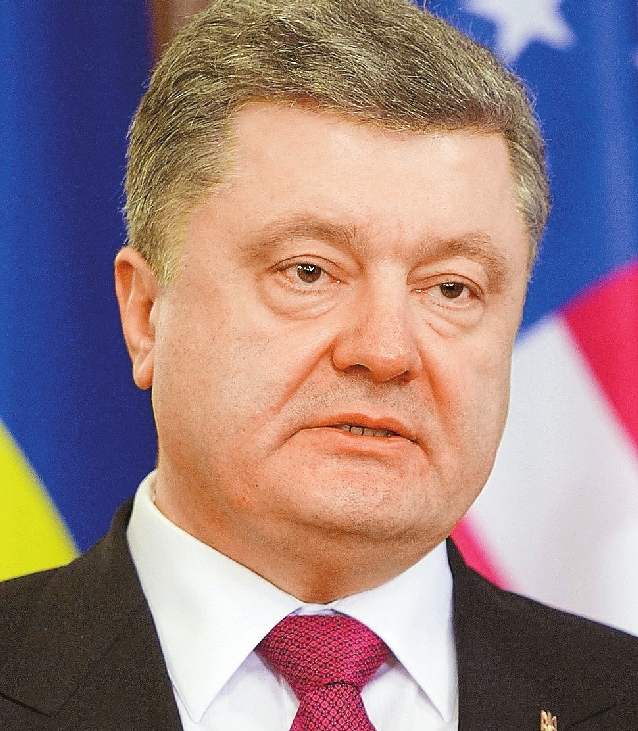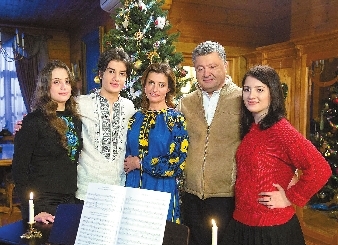 UKRAINIAN President Petro Poroshenko on Tuesday launched an uphill battle for re-election, after five years in power marked by confrontation with Russia.
Opinion polls put him behind former Prime Minister Yulia Tymoshenko, who rose to international prominence in 2004 during the anti-corruption Orange Revolution demonstrations and announced her own run last week.
"This feeling of deep responsibility towards my country ... prompted me to decide to run again for the office of the president of Ukraine," Poroshenko told a rally in Kiev.
Poroshenko asked voters for a mandate to "guarantee the process of European and Atlantic integration, to guarantee our independence, to renew the territorial integrity of Ukraine."
During a roughly 40-minute long speech he repeated calls for Ukraine to seek full membership of NATO and the European Union.
Poroshenko's years in power have seen Kiev seek closer ties with the West as war rumbles on in eastern Ukraine against Russia-backed separatists.
Addressing roughly 1,000 people at the gathering of supporters, the Ukrainian president stressed the need for peace with Ukraine's powerful neighbor.
But the event at times took a combative tone, with huge screens blazing the slogan "Either Poroshenko or Putin" accompanied by pictures of the Ukrainian and Russian leaders.
Poroshenko said earlier this month that he believes Russia would seek to interfere in Ukraine's election to destabilize the situation in the country.
Critics accuse him of not doing enough to tackle corruption, but Tuesday he insisted the worst of the country's economic struggle was behind it, adding: "I hear a lot of harsh criticisms and I take that on board."
In third place in opinion polls is Volodymyr Zelensky, a comedian who once played the role of president in a Ukrainian TV series but has no political experience.
No candidate has an unassailable lead, with Tymoshenko, Poroshenko and Zelensky polling on roughly 16, 14 and 9 percent respectively.
Poroshenko was elected in 2014 after his pro-Russian predecessor Viktor Yanukovych was ousted following a wave of popular protests.
The 53-year-old business tycoon promised to pivot the country of nearly 45 million people towards Europe and has sought to push through ambitious reforms.
But critics say graft is still rampant and Poroshenko has done little to rein in fellow oligarchs, even if the economy is showing signs of recovery following a recession.
Poroshenko, who won outright victory in the May 2014 presidential election, has long supported the country's pro-European movement despite being unaffiliated to any political party.
The "chocolate king," as the owner of Ukraine's largest confectionery manufacturer Roshen is known, was a key backer of the 2004 Orange Revolution and once served as foreign minister under Tymoshenko, whom he roundly defeated at the last election.
However, Poroshenko also served briefly as trade minister under former President Yanukovych, whose downfall amid street protests in February paved the way for him to take the presidency.
Having seen off his main political rivals, he came to power in a country wracked by civil war in the east and uncertainty over relations with Russia, which saw its political influence in Kiev crumble with the overthrow of Yanukovych.
But he appears to have solid backing from Washington and Brussels, eager to see stability return to Ukraine. Former U.S. President Barack Obama has praised the tycoon as a "wise selection" with an impressive record in business expertise who can handle Ukraine's formidable economic and political challenges.
Born on Sept. 26, 1965 in the town of Bolhrad near Odessa, he was raised in the central region of Vinnytsya and studied economics in Kiev.
After building up his confectionary empire after the collapse of the Soviet Union in the early 1990s, he now also has interests in construction and the media, owning influential Ukrainian broadcaster Channel 5 TV.
Forbes previously estimated his net worth to be US$1.3 billion.
Poroshenko objected to being called an oligarch, saying that "oligarchs are people who seek power in order to further enrich themselves. But I have long fought against bandits who are robbing our country and have destroyed free enterprise."
After promising during his election campaign to sell his business assets once elected as the president of Ukraine, he has relinquished the management of his businesses, ultimately to a blind trust.
The father of four portrays himself as a pragmatic politician who sees Ukraine's future in Europe but hopes to mend relations with Russia, using the diplomatic skills he developed as foreign minister.
He advocates local governance reform and devolution of power to the regions, as well as economic reform and improving the investment climate.
If he or others let people down by not tackling endemic corruption, people power will hold them to account, he said in an interview.
Critics would say he himself is part of the old system and questions have been asked about his decision to retain control of Channel 5 while in office, as a Time magazine article explains.
He has taken a hard line on the separatist insurgency in the east and ruled out negotiating with them.
"Talking to gangsters and killers is not our path," he said in his inaugural speech.
This image of a tough leader of integrity was reinforced by his decision to visit Crimea at the height of the crisis in 2014 and brave hostile crowds.
Ukrainian media interpreted the groundswell of support for Poroshenko at the 2014 election as a reaction to the opposition's dithering and inability to find common ground during and after the anti-government protests that toppled Yanukovych.
Poroshenko has also won the support of opposition leader and former boxer Vitaly Klitschko as well as fellow tycoon Dmitry Firtash, who has long been on cordial terms with Russia.
But building a working relationship with Moscow has been his greatest challenge.
"I think that Poroshenko has a unique opportunity," Russian President Vladimir Putin has said. "He still doesn't have blood on his hands. He can still ... start a direct dialogue with the citizens of the south and the east of his own country."
Five years on, Kiev's relationship with Moscow remains in dire straits. After the 2014 uprising, Moscow supported Russian-speaking separatists in the industrial east, in a conflict that has been a huge burden for Ukraine's economy, with Poroshenko forced to rely on assistance from the West.
In December the International Monetary Fund (IMF) confirmed it would give Kiev a US$4 billion, 14-month loan.
Poroshenko's low popularity ratings received a boost after he oversaw the creation of a Ukrainian Orthodox Church independent of Moscow.
His standing also increased after Russia seized three of Kiev's navy vessels and two dozen sailors as they tried to pass from the Black Sea to the Sea of Azov in November.
Russia's Putin accused Poroshenko of provoking the naval crisis in a bid to increase his popularity ahead of the vote.
During his speeches, Poroshenko on numerous occasions has called the war in eastern Ukraine a "patriotic war." Despite his tough talk about defeating "terrorists," Poroshenko has steered away from calls to introduce martial law, for which he was criticized on numerous occasions by politicians and the general public.
Instead he said he hopes to pacify the region with an offer of amnesty and a promise of early regional elections.
Poroshenko noted that it is necessary to realize the consequences of martial law for the country: It will restrict the supply of weaponry and items of dual assignment, and the IMF won't provide funds to countries that are in war.
In his interview with the Spanish El Pais in February 2015, Poroshenko said that he will introduce martial law in the case of an escalation of the situation in Donbas, but that decision will limit democracy and liberties as well as threaten the development of the economy.(SD-Agencies)