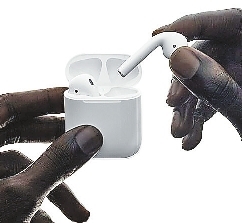 This spring, Apple is expected to launch a revamped* pair of AirPods.
The AirPods will likely feature a non-slip grip coating to address consumers' often-repeated criticism that the headphones easily slide out of their hand because they're made out of a smooth, plastic material, Daily Mail reported.
AirPods 2 are also expected to feature improved bass, advanced sensors for health monitoring and will come in both black and white.
But AirPods 2 are expected to look similar to the original version, aside from a few small upgrades. The second-generation headphones are also expected to have the same longevity as the original version of five hours.
The second-generation AirPods are expected to sell for US$200.
Along with the AirPods, Apple may also have a new iPad Mini up its sleeve. Speculation claims that the iPad Mini 5 might be speedier than its predecessor*.
Additionally, Apple could finally make its AirPower wireless charging pad available, which has been largely missing in action since it was first debuted in 2017. It will feature a redesigned charging coil configuration*, making the mat slightly thicker than before and, possibly, to prevent any overheating issues.(SD-Agencies)