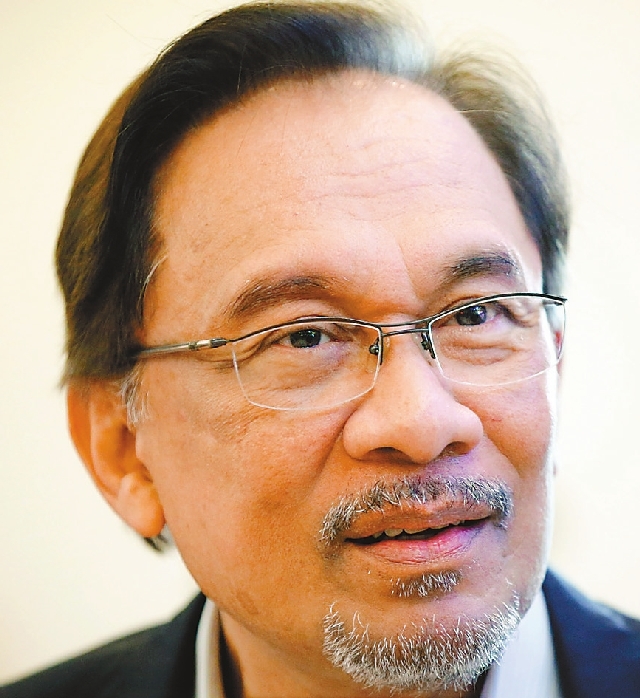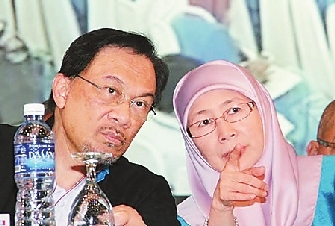 IN some countries, Anwar Ibrahim might have been seen as a political pariah long ago.
He was jailed twice in the past two decades on accusations widely believed to have been engineered by his opponents.
But he is now believed to be just a step away from replacing the 93-year-old Mahathir Mohamad, who was prime minister from 1981 to 2003 and then regained the office in May.
Malaysia's would-be prime minister said Wednesday he expects to take power from Mahathir in less than two years but wants to give the current leader enough time to govern effectively before he assumes control.
"Of course it's not five years because he's made it very clear they would not exceed two years," PKR (Parti Keadilan Rakyat) leader Anwar said.
"But it's important to allow him to govern effectively because we are in very difficult and trying times."
Mahathir pledged during last year's election campaign to stand aside for Anwar once he was pardoned, which happened just a week after the opposition's shock victory in May. He then pushed back the timeline to one to two years. Anwar concurred, saying he planned to travel and spend time with his family after more than three years of imprisonment.
The men have presented a united front to the public, giving Mahathir a free hand at rooting out corruption and getting to the bottom of a sprawling scandal over state fund 1MDB before Anwar steps in.
That public stance belies decades of enmity between them: Mahathir fired Anwar as his deputy in 1998 over a dispute on how to respond to the Asian financial crisis. Anwar was later jailed for committing sodomy and abusing power, which he denied, then subsequently imprisoned for another sodomy conviction. Anwar has said that the charges were politically motivated.
Anwar has shown signs of impatience. Despite saying he would spend a year away from politics, he returned to campaign for a parliament seat just five months after his release. He was then allowed a seat in the top circle of the ruling Pakatan Harapan's presidential council, while holding no Cabinet position. He also became the chairman of a parliamentary caucus for reform and governance.
Anwar is famed for his speech-making and ability to captivate a crowd in a country where few politicians have the common touch.
He was also seen as the only man who could bring together the diverse opposition groups — a conservative ethnic Malay Islamic party, a secular party largely representing ethnic Chinese and Indian minorities, and Anwar's own multiracial Keadilan.
When pardoned by the king in May, Anwar told a massive crowd that gathered to witness his release from prison: "Now there is a new dawn for Malaysia. I must thank the people of Malaysia. Malays, Chinese, Indians, Kadazans, Iban. Entire spectrum of our Malaysians, regardless of race and religion. ... They demand change and it is our duty now to ensure that this mandate given to Pakatan Harapan will honor this commitment."
Politics is a family affair for Anwar.
His wife, Wan Azizah Wan Ismail, a petite, Irish-trained doctor, held a parliamentary seat in northern Malaysia during his political exile but stood aside in 2008 to make way for Anwar when a five-year ban from public office related to his earlier conviction expired.
They have six children, five of them girls, and their 36-year-old daughter Nurul Izzah Anwar was elected to parliament in the landmark 2008 elections.
On the 1MDB scandal, Anwar said Malaysia "will not compromise" in its talks with Goldman Sachs Group Inc. and the bank "must bear responsibility."
The nation has a responsibility to uncover any crimes the investment bank may have committed, Anwar said, adding that he's not sure whether Malaysia can get the US$7.5 billion it's seeking from Goldman as compensation for the scandal.
A charismatic politician, Anwar was next in line to the premiership more than a decade ago.
Anwar first rose to prominence as a radical Islamic student leader, catching the eye of Mahathir, who dominated Malaysian politics for more than two decades until he retired in 2003.
A gifted natural politician, Anwar rose quickly in the United Malays National Organization (UMNO), which dominates the coalition that has governed Malaysia since independence from Britain half a century ago.
He headed various ministries before taking the key finance ministry portfolio in 1991, and was lionized in the West for his reformist image.
Two years later he was all but anointed Malaysia's future leader when he was named deputy prime minister.
But as Asian economies toppled in the 1998 regional financial crisis, a bitter rift emerged with Mahathir, who was infuriated by Anwar's calls for reform and an end to corruption and nepotism.
Anwar was seen by many to have misplayed his hand, underestimating Mahathir, and was sacked and charged with corruption and sodomy.
In a drama that riveted and shocked Malaysians and earned worldwide criticism, Anwar was brought into court with a black eye after a beating from the country's police chief.
The stunning fall from grace was widely seen as politically motivated and triggered massive protests.
Anwar was jailed and finally released in 2004 when the sodomy charge was overturned. Emerging in poor health, he spent time recuperating and working as an academic.
But Malaysian politics was left polarized by his ouster, and by 2007 he was campaigning for Parti Keadilan Rakyat, a centrist party formally headed by his wife, Wan Azizah, who had emerged as an opposition symbol.
In 2008, Anwar led a three-party opposition alliance to astonishing victories in general elections, seizing control of five states and a third of parliamentary seats in an unprecedented result.
The opposition had capitalized on growing dissatisfaction with an entrenched governing coalition widely viewed as corrupt and oppressive.
The ruling elite was shaken to the core by the results, and an ultimately unsuccessful bid by Anwar shortly afterwards to seize control of parliament.
But not long after the 2008 vote, he was hit with fresh charges of allegedly sodomizing a young aide who worked in his office. Many Malaysians viewed the case as a ploy by the ruling elite to eliminate Anwar as a political threat.
That was under the leadership of former Prime Minister Najib Razak, who allegedly stole billions from Malaysia.
Najib's alleged corruption was so egregious that it prompted a remarkable reunion. Mahathir came out of retirement to team with Anwar and lead the opposition to victory in the May elections.
When Mahathir decided to return to politics last year, Anwar had to watch events unfold from his prison cell.
"It was painful for me [and my family]," Anwar told The Washington Post in a recent interview at his party's headquarters in Kuala Lumpur. "It was very emotional, and very tough." But, he said, "Mahathir took the initiative to come and see me, and then we started discussions."
The elder statesman, he said, was "preoccupied" with changing the government and ousting Najib, who is at the center of the graft scandal involving 1MDB.
"Without our effort together to collaborate on this," Anwar said, both men realized that they "may not succeed."
Since those groundbreaking meetings, however, tensions have resurfaced.
"Their relationship still looks strained and forced, much like in the months leading up to the showdown in 1998," said Oh Ei Sun, a Malaysian political analyst.
Mahathir also has tried to wiggle out of the two-year timeline to hand power to Anwar, and avoids giving a definite answer whenever the question of succession is raised. In an interview with The Post, he promised that Anwar will take his place, but he has declined to specify a date.
Anwar insists that he will not take a Cabinet role and is happy to support Mahathir without pushing for a succession timeline.
"If I have waited 20 years, I'm sure I can wait a bit more," he added with a laugh. "But the other way you can say it is, I have waited long enough."(SD-Agencies)