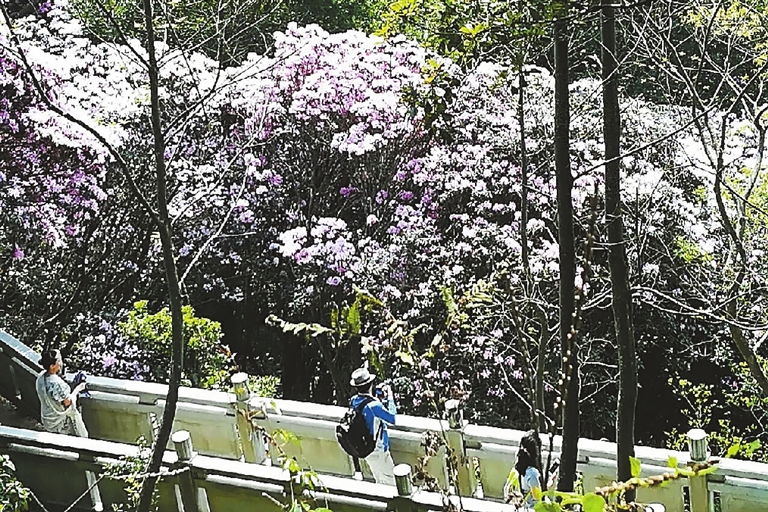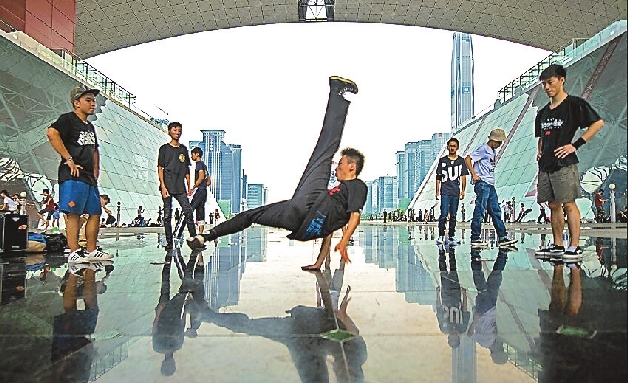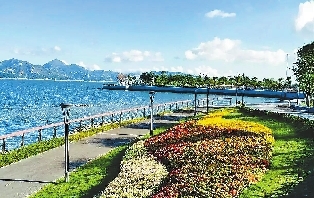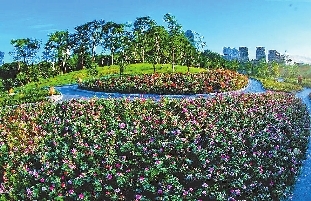 IF Spring Festival is already in the past tense, can spring be far behind? With spring arriving in all her splendor and glory, going outdoors this time of the year with family and friend to enjoy the blossoms, the greening grass and the warm sunshine is a joy that cannot be missed. Here we list out 13 options for spring outings in the city for you.
Wutong Mountain
Flowers have been in bloom at Wutong Mountain, the tallest mountain in Shenzhen at 943.7 meters, since early January. And two of the mountain's most famed species, rhododendron moulmainense and enkianthus quinqueflorus, have been attracting crowds of people to go and take delight in their elegant beauty.
Enkianthus quinqueflorus, better known in South China as the Chinese New Year flower, blooms around the Spring Festival. As it symbolizes auspiciousness and achieving high scores in China's imperial examinations, it has been favored as a traditional festival flower in the Guangdong area since the mid-Qing Dynasty (1644-1911).
The blooming deciduous shrubs or small trees, a species of the ericaceae family, can be seen on the earthen slopes of the Dujuan Valley.
The roughly 100,000 rhododendron moulmainense trees scattered across Wutong Mountain are mainly distributed on slopes of around 400-800 meters in elevation. The oldest tree, more than 10 meters tall, is estimated to be over 100 years old.
While appreciating the fragrant flowers, you can also have a full work out climbing up the tallest mountain in the city.
Add: Wutong Mountain, Yantian District 盐田区梧桐山
Easiest and safest route:
Wutong Mountain North Road route: Wutong Mountain North Gate Memorial Archway — Wutong Mountain North Road — Phoenix Terrace — Hero Slope Square
Buses: 221, M445
Coast corridor in west SZ
Recently, the 6.6-km west section of the coast corridor of Shenzhen Bay Park was officially opened to the public. With flowers on both sides and a nice sea view, the place is a perfect option for strolling, bicycling and hanging out with friends.
Along the way there are seven key areas including OCT Harbor, Shenzhen Bay Super Headquarters Base, the central area of Houhai, Shenzhen Bay Checkpoint, Shekou Mountain, Shekou Fishing Port and Sea World, and over 20 theme parks.
Add: Shenzhen Bay Park 深圳湾公园
Transport: Take Metro Line 2 to Dongjiaotou Station or Sea World Station, and walk a bit to reach Section E at Haijian Plaza; Or take Bus 22, 79 or 80 to Shekou Plaza to reach F section of the Fishing Port Central Park.
Xiangmi Park
Dubbed "the most beautiful park in Shenzhen" and "the green lung of the metropolis," Xiangmi Park offers a pleasant and soothing vista. In the park, there is a glazed walkway in the air where you can enjoy the view of the whole litchi orchard. The most beautiful marriage registration office is also located inside the park. Standing with your lover among a park full of roses cannot be more romantic.
Add: 30 Nongyuan Road, Futian District 福田区农园路30号
Metro: Line 7, Nonglin Station, Exit C.
Civic Center Plaza
Located in Futian CBD, Civic Center is an 84.7-meter-tall government building. One of the most famous city plazas, the Civic Center Plaza serves as a popular hangout place for citizens. Surrounding it are Shenzhen Book City, Lianhua Hill Park, Shenzhen Concert Hall, Shenzhen Library, Shenzhen Children's Palace and Shenzhen Museum, so you can enjoy your time reading, watching shows, listening to concerts, hiking, or you name it.
Add: 1 Fuzhong Road 3, Futian District 福田区福中三路1号
Metro: Line 2 or Line 4, Civic Center Station, Exit C
(Chen Xiaochun)