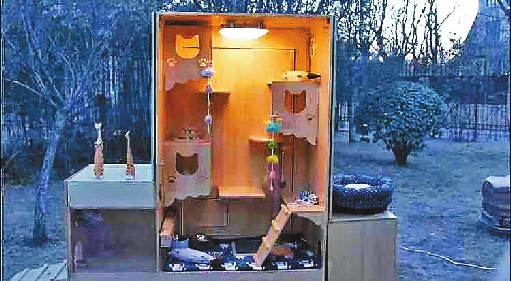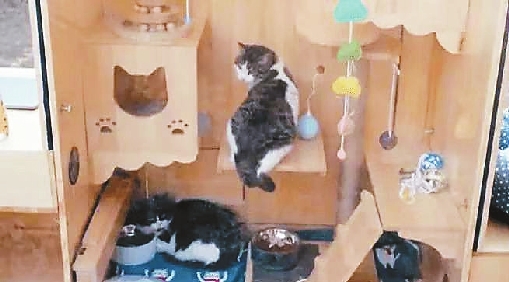 Chinese tech giant Baidu has created a high-tech home for stray cats.
The Smart Cattery uses artificial intelligence (AI)* to distinguish cats from other animals and even spot common diseases. The shelters could prove to be a safe haven for many felines subjected to harsh outdoor conditions in winter.
Wan Xi, a computer engineer at Baidu, first developed the idea when he saw a cat hiding in his car last winter. He decided he could put Baidu's AI software to work in a way that could help strays.
Baidu noted that only about 40 percent of stray cats successfully survive the cold winters in Beijing.
The engineers in Baidu then constructed the shelters, which appear to be made out of wood.
When a cat approaches the shelter, a facial recognition camera scans its face to determine it's not a dog. Baidu said its animal recognition technology is capable of identifying as many as 174 different types of cats.
Each cat enters through a small hole in the side of the structure, which is revealed after a wooden latch moves out of the way.
After a cat enters, the door shuts behind them and they can exit the structure using the same facial recognition technology.
There are also cameras located inside the structure, which Baidu claims can scan for common cat diseases like feline stomatitis*, feline viral rhinotracheitis*, traumatic* injuries and dermatitis* in a second.
Additionally, Baidu's EasyDL algorithm* can tell whether a cat has been neutered*.
Once inside, cats can enjoy perches and huts for sleeping in or on top of. There are also toys, water, food and a temperature-controlled environment at roughly 26 degree Celsius. The structure is equipped with what Baidu describes as a fresh air system that can monitor oxygen* and carbon dioxide* levels in the cat litter, keeping the air in the cat litter room fresh.
It's unclear whether Baidu plans to deploy the shelters at a bigger scale or if it's just a small project.(SD-Agencies)