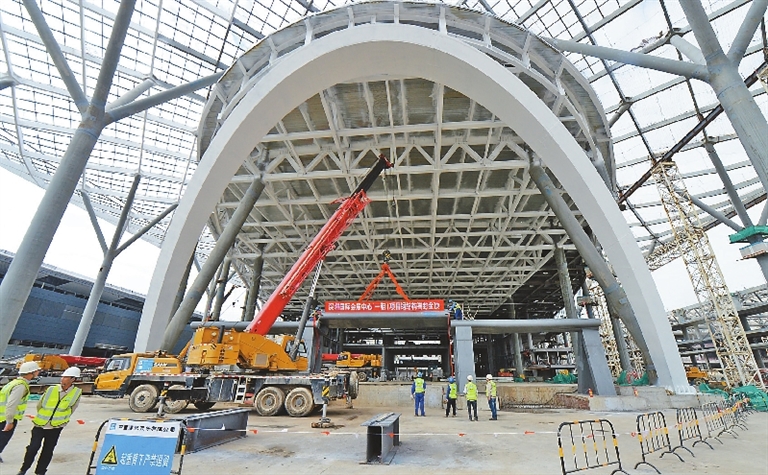 THE main structure of Shenzhen International Convention and Exhibition Center in Bao'an District was completed Jan. 28. Upon completion June 30, the 1.58-million-square-meter complex will be the largest of its kind in the world, equivalent to the size of six Bird's Nests, China's national stadium in Beijing, the Bao'an Daily reported.
The center will be a convention and exhibition complex that provides integrated services ranging from tourism, shopping, sports and art performance to catering. Its roof designed after a pattern of colorful ribbons, represents the Maritime Silk Road.
Total amount of steel used in the project reached 270,000 tons, which tops that of any building in the world and is equivalent to 39 Eiffel Towers.
To ensure the main structure will be completed on time, China Construction Steel Structure Co. Ltd., the builder in charge of the construction, has pushed to produce 46,000 tons of steel in a single month in the peak phase. Meanwhile, more than 300 lifting cranes were put into operation and 5,000 workers were arranged for 24-hour uninterrupted construction.
The installation of the 270,000 tons of steel structure was completed in just over 400 days, which means that a Bird's Nest would have been built in two months at the same rate.
The company has also hit a new record by installing 5,000 tons of steel structure per day, 20,000 tons per week and 60,000 tons per month. Moreover, the construction team has successfully withstood the test of high temperatures, heavy rain and super typhoon Mangkhut.
Shenzhen International Convention and Exhibition Center is a major project invested by the Shenzhen government.
Since conventions and exhibitions are a core driving force in the economy, it is planned to leverage regional transportation resources to boost commerce, international logistics, and industrial clusters closely related to airport economy.
When completed, the center will become the world's largest convention and exhibition center. It is of great significance to helping Shenzhen build a modern, internationalized and innovative first-class city as well as to boost the construction of the Guangdong-Hong Kong-Macao Greater Bay Area.
(Zhang Yu)