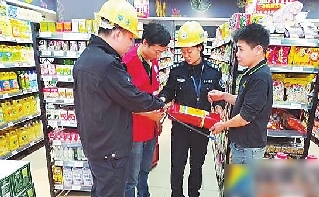 DURING the Spring Festival holiday, law enforcement teams in the subdistricts across Bao'an District worked around the clock in an action to tackle the persistent safety and sanitation issues produced by the illegal discharge of firecrackers, and the disorder caused by unlicensed vendors and illegal structures.
By inspecting major streets and public places, including Yanchuan Square, Tangxiachong Square and Qilin Hill Park, 700 staffers with the law enforcement team of Yanluo Subdistrict managed to rectify 186 cases of disorder in town. The grid management center of the subdistrict also deployed 60 staffers to be on duty throughout the holiday, with watch-hours extending until 10 p.m. each day.
Small-scale commercial premises, such as rental houses, retail shops, family eateries and salvage stations, are often seen as hotbeds of hidden hazards to public safety, and have become the emphasis of the safety inspections carried out by the grid management team of Fuyong Subdistrict. By Feb. 10, 546 safety inspectors in the subdistrict had troubleshooted 945 hidden dangers regarding fire safety by patrolling a total of 2,952 rental houses and 784 small premises that were identified as the places most likely to be exposed to safety issues, such as waste transfer stations, outdoor construction sites and some waste collection points. Also, the illegal storage and discharge of fireworks and firecrackers was also cracked down on in Fuyong Subdistrict. On the sidelines of the safety inspections, brochures were handed out to residents in order to enhance awareness around fire safety.
In Xin'an Subdistrict, a law enforcement team joined hands with communities and the grid management center in an action against illegal structures in buildings. By the end of the Spring Festival holiday, 13 illegal structures had been found, and approximately 370 square meters of illegal construction had been demolished. The property rights of two proprietors in the subdistrict were restricted in the action. (Wang Haolan)