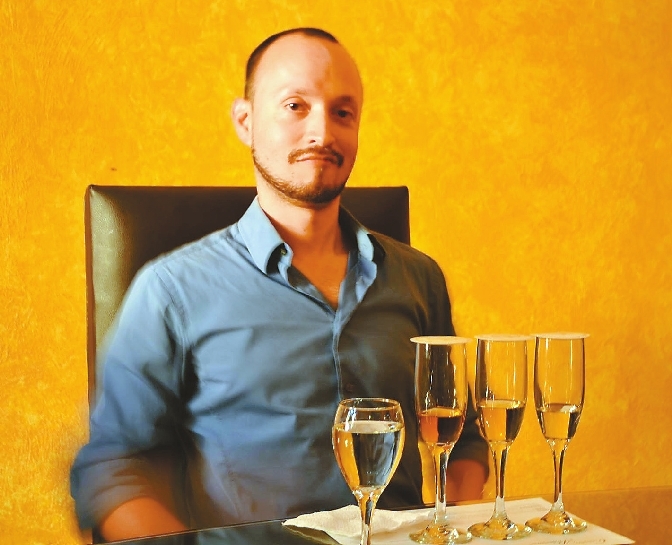 Priyanka Sharma
consultpriyanka1@gmail.com
SOME people choose to follow a specific career path, aiming at a certain position or job, and spend their time acquiring the right skills and knowledge to succeed, while others choose to let their god-given talents and skills guide their career. They go with the flow, picking up whatever job or opportunity comes their way. Until the moment they get to follow their passion and do what makes them happy, they could be anywhere doing anything.
Santiago Cortez, a man with a big friendly heart and a disarming smile, belongs to the latter category. His talent lies with people, his ability to break through the thickest ice and build lasting interpersonal relationships. Cortez's passion for traveling and exploring new cultures has been the driving force in his academic and professional career, which was most likely sparked by the frequency with which his family would relocate in his early years.
Born in Colombia during the time of Pablo Escobar, Cortez's family moved to Mexico when he was just 8 and when he finished middle school, they moved to Guatemala, where he finished high school.
Cortez's father always encouraged him and his siblings to get a good education. So, when it was time for higher studies, having fallen in love with traveling, he opted for a bachelor's program in communications at the University of Pennsylvania in the United States, which not only allowed him to spent half a semester in Australia and Berlin but also paved a path for traveling for business.
Upon graduation, he decided to spend a couple of years abroad teaching English to help him pay off his education loan, and no other country could be better for that than China. In 2007, he received a call from Web International English regarding a teaching position in Suzhou, Jiangsu Province. Excited by the prospect of living in such a picturesque city, Cortez packed his bags and set off for China only to find out that his destination was not Suzhou but Xuzhou, a city famous for coal mining.
Despite having to return home with a black face and his clothes having taken on a similar color because of the industrial pollution, Cortez continued to live and work in Xuzhou for the next two years. He had fallen in love with the people who welcomed him with a surprising warmth and filled his belly with some of the most delicious food he had ever tasted.
However, by 2009 he felt fed up with his work and decided to change his profession. He worked for a year as a product consultant in Chaozhou, Guangdong, but neither the place nor the job was to his liking.
Finally, in 2011, he arrived in Shenzhen with a high-level job offer from one of the biggest LED display manufacturers in China. The weather was to his liking, Hong Kong was right across the border, and it was a beautiful city with people from all across China and the globe, so he fit right in and got comfortable really quickly.
The job offered Cortez an opportunity to learn the trade of the audio-visual (AV) industry. He could finally put to use his people skills and persuasion abilities, and the best perk of the job was that he got to travel quite frequently and extensively.
Once he helped a client source an AV product for a big show, and from then on, his client developed the habit of coming to him for all of his AV needs, not just LED displays. "You know the market and I trust you. Why would I go to the trouble of talking to individual suppliers?" his client said, and just like that Cortez got into the AV business for himself.
Cortez had big expansion plans that were repeatedly either turned down or put on hold indefinitely by his employer. By 2013, he had shown enough patience and restraint. He quit his job and joined Light Link, also an LED display manufacturer. Although Light Link is much smaller than his previous company, it is not afraid of spreading its wings, making changes and taking risks.
At the same time, his own client base and business had grown enough that he registered his company, Onix Solutions.
Once word spread that Cortez had become a one-stop shop for all audio-visual equipment needs, new business poured in for both his employer and himself. He boosted his and his employer's business by developing the cross-rental market all over the United States and South America.
He would rent large quantities of Light Link LED displays and other AV equipment to some of the biggest event organizers and advertisers in the industry and help small and medium-sized firms fill their requirements, ensuring a steady flow of resources and business for him, his clients and his employer.
Cortez's charming personality and ability to build relationships gave him an edge over his competitors. Today, six years later, he has become a client of his employer, Light Link, and their working relationship couldn't be better.
Cortez has clients all over the United States, Brazil, Guatemala, Colombia, Argentina and many other South American countries. He is planning to enter the European market. Cortez is well respected and trusted in the industry and by his customers, as he values his business relationships and is always ready to go the extra mile.
Exceptional customer service and after-sales support, and tailor-made solutions for his client's specific project requirements are some of the cornerstones of Cortez's business.
When he's not working, Cortez loves to travel and is a big soccer fan. He lives in Bao'an with his girlfriend.