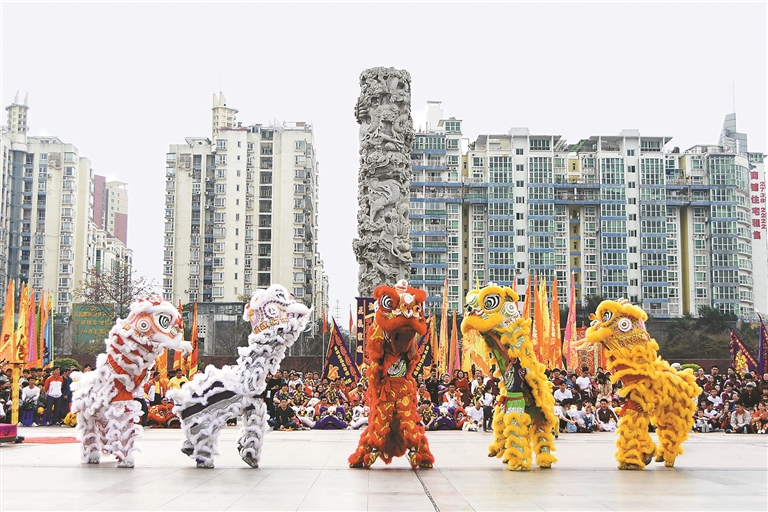 THEMED "Dancing lion to celebrate the New Year, Bao'an embraces art," an art performance organized by the Culture, Sports and Tourism Bureau of Bao'an was held in Haibin Plaza in Bao'an District on Feb. 5 to celebrate the Spring Festival.
The performance was unveiled in the bustling ambiance of lion dance and kirin dance, which were organized by Xinqiao Subdistrict and Xin'an Subdistrict. Representatives of model workers, sanitation workers, volunteers, security guards and artists jointly painted the lions' eyes. The traditional folk art performance blended elements of the new era, bringing a fresh new experience to the audience.
Happy melodies filled the whole plaza, including passionate dancing and singing performances "Striding Forward in Happy China" and "Good Model of Children," and folk music "Spring Festival Overture" and "Horse Racing."
After that, Huangmei opera "Couple Watching Lanterns" and street dance "Running Toward the Future," performed by traditional artists and young street dance artists respectively, interpreted the blending of traditional arts with popular culture and showcased the diversity and inclusiveness of Bao'an culture.
The art performance has fused different cultural elements including dance, singing, and opera. It not only satisfied the cultural needs of the citizens during the Spring Festival, but also inherited and promoted splendid traditional Chinese culture.
(Chen Xiaochun)