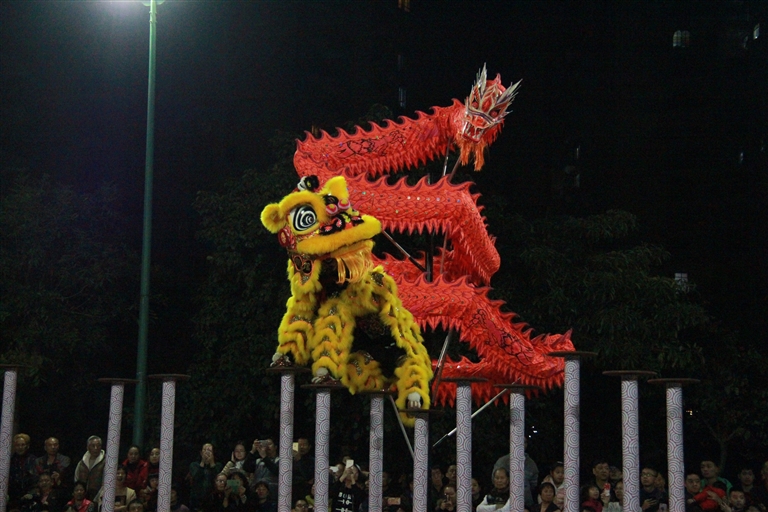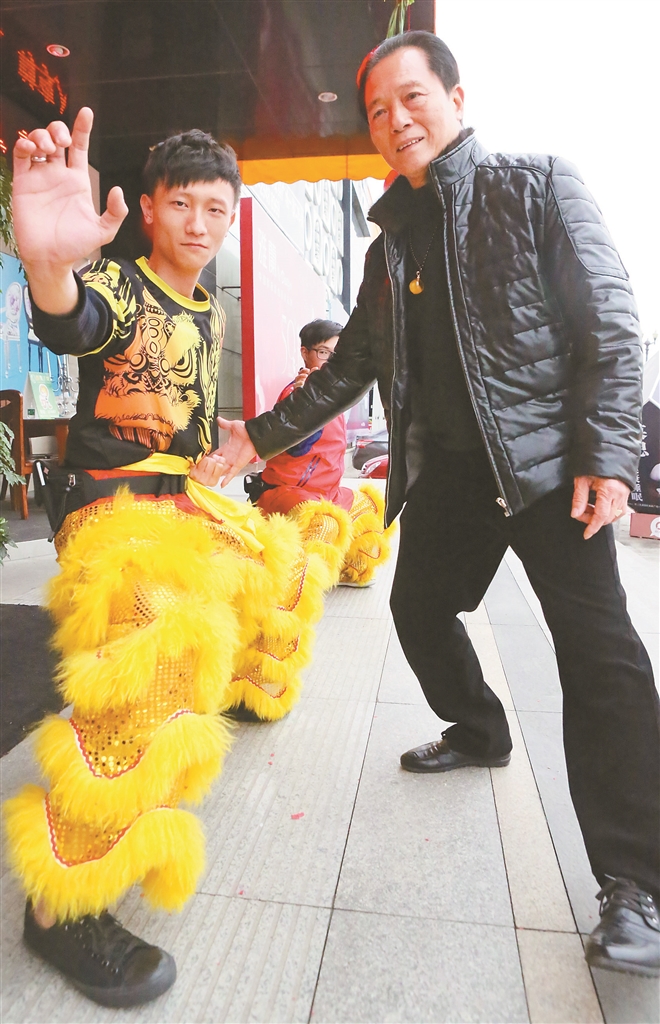 WHILST the thunderous beat of drums and chiming of cymbals were reverberating across every household on Chinese New Year's Eve, 40 festive lions "reared" by the lion dance troupe of Fuyong Subdistrict wowed the audience of the Shenzhen Subvenue of the 2019 Spring Festival Gala with their breathtaking performances. After escorting Chinese people against the Nian Beast late the previous night, the dance troupe didn't sleep on the first day of the Chinese New Year; instead, they geared up early in the morning to pay New Year calls to every family in the district with jubilant vibes.
Throwing back to the beginning of January when the dance troupe was informed of being selected for the program of the 2019 Spring Festival Gala, which is considered one of the greatest annual jubilees nationwide, 107 performers from five subdistricts, namely the Fuyong, Baishixia, Fenghuang, Qiantou and Tangwei subdistricts, gathered at a boot camp to practice acrobatic moves such as leaps, spirals and summersaults on pillars that were at least two meters tall. Even in the evening of Jan. 30, they were still rehearsing at the training grounds in their communities.
"It's our great honor to perform onstage at the subvenue of the Spring Festival Gala. So, we need to spare no effort to showcase the best of Fuyong's lion dance culture to audiences nationwide," said Zeng Shaolong, leader of the lion dance troupe.
Being the 25th annual lion dance gala of its kind held for the Lantern Festival, the exuberance inspired by lion dance has been incorporated in the spirits of residents of all ages. Guan Zuhao and Jian Zeqian, both primary school students, joined the troupe all the way from the training grounds to the filming venue at the Civic Center Plaza. Upon the completion of filming, none of the performers had quit, including the substitutes.
Lion dance in southern China, the preservation of which is greatly driven by families and clans, has become its own school of art. It's recorded that lion dance prevailed in the ancient counterpart of Fuyong Subdistrict during the reign of the Jiaqing Emperor (1796-1820) of the Qing Dynasty (1644-1911). Regarded as one of the epitomes of the Southern Lion Dance, Fuyong Lions are recognized by their power, vigor and agility. The subdistrict was accredited as the cradle of the Southern Lion Dance by Guangdong Provincial People's Government in 2003 and it was enlisted as one of the intangible cultural heritages of the province in 2008.
Accompanying President Xi Jinping's mission during a State visit to Belgium in 2009, lion dance troupes from Bao'an District have gradually mounted international exposures since then.
On Jan. 28, a Chinese New Year parade, co-staged by Huang Liansheng Lion Dance Troupe of Shangchuan Subdistrict and the Royal Moroccan Federation of Martial Arts at the city square of Temara, Morocco, feasted the beholders' eyes with awe-inspiring performances of lion dance, dragon dance, Tai Chi and the like.
(Wang Haolan)