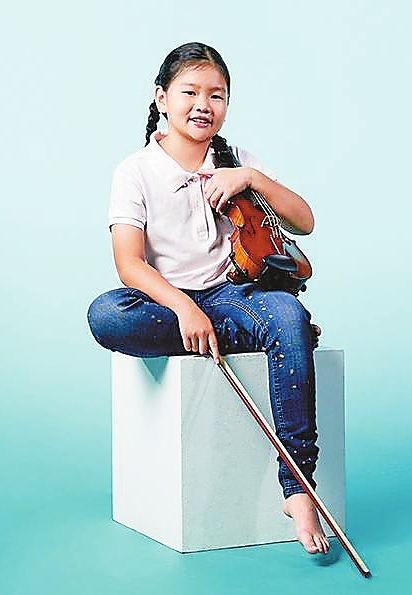 从新加坡到卡内基音乐厅,8岁的天才小提琴手其实很努力
Eight-year-old Singaporean Freya Kylie Lim could be easily mistaken for an amateur still figuring out the basics of the stringed instrument for her small frame and young age. Once she begins playing, however, the bubbly schoolgirl reveals her virtuosic talent and the years of training behind her ABRSM Grade 8 certification.
On March 5, the primary school student will be headed to New York City with her mother, Felicia Ng, to take the stage at the famed Carnegie Hall. It's not every day that a Primary 2 student can say she'll be performing the first movement from "Beriot's Violin Concerto No. 9" to an audience of more than 250 people at the Weill Recital Hall in Carnegie Hall. And it is certainly not a regular affair for your mother to be accompanying you on the piano either.
Lim's performance follows her respectable third prize finish in the Young Musician Category of the Golden Classical Music Awards International Competition, a global competition open to all nationalities and ages in strings, piano, wind and vocals.
When asked how she is handling her nerves before the big day, the young Singaporean revealed a seasoned confidence that belied her age. "I'm not really nervous for the New York trip. I normally just look at my violin when I'm onstage … It's all natural to me," she said with a grin.
Her violin teacher, Vivienne Eio, explained to Channel NewsAsia that Lim rarely gets the jitters before a performance because she has been exposed to performing from a young age. The young violinist first began taking music lessons when she was 2 years old.
After spending a year and a half with Lim, the 37-year-old teacher is most impressed with the girl's work ethic. "She's really, really hardworking," said Eio. "What you see today, all her competitions and exam results, everything she has accomplished, they were driven by herself.
"In the recent Grade 8 exam, Freya wanted to do this really difficult piece and I had my reservations because I felt that it would be too much for her and I wanted it to be a positive experience ... But she proved me wrong. She worked hard and followed in detail what I told her and she got full marks for the piece."
The importance of persistence
That same determination applies to Lim's other hobby — golf. "She started playing golf last year. At first, I thought it would just be a holiday program. She took six months of lessons and then took home a gold award last November while she was preparing for her Grade 8 violin exams," said Ng. Her daughter had taken part in a junior competition held at Mandai Executive Golf Course.
The 39-year-old homemaker believes that parents should encourage their children to love a hobby, rather than force it upon them. While young children may prove to be fickle in their interests, she cited the importance of persistence.
With her daughter's achievements, Ng even joked that she and her husband sometimes "forget that she's a child." "We don't treat her like a child. We take her as an equal, and sometimes, we forget that she's 8. She speaks like an adult."
That maturity manifests in unexpected ways. Her answers are at once heavy and belie her small frame, like the work she dreams to do (she wants to be a heart surgeon), but sometimes floats with childlike optimism, like when discussing her favorite book, "Charlie and the Chocolate Factory."
Because after the last notes of her violin ring out and the applause fades in the concert hall, Lim remains, at heart, an 8-year-old girl. "I'm excited for the food in New York, like pasta and hamburgers." (SD-Agencies)