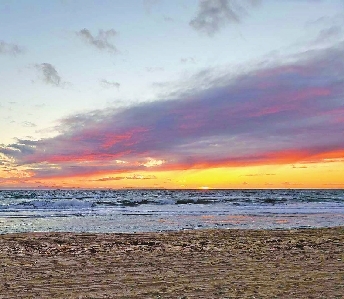 Matthew Jellick
Competing realities spread between the Pacific
stretched to nearly a breaking point.
Heading home towards the Sun,
chasing it, seeking to be blanketed in warmth.
Departure left friendships replaced by opportunism as
Creativity was sidelined for conformity.
Excuses run rampant, told with shifting eyes
which can't even look you directly in the Soul.
Landing to contrasting Blues, that Sky and Ocean
release my Heart back to me.
Dancing Daylight outside the window,
while the wind whispers secrets of truth.
A break from where inauthenticity is exposed,
when scratched for only a moment
beneath a layer of Slate,
where image is a maché mask.
Returning to remembrances of childhood
hinted at by family, friends and even foods,
each something which continues to bring me back
to that swift undertow, beyond the shorebreak.
Questionable development displacing history
teaching lessons in contrasting viewpoints.
Global Education outside the classroom,
Trying to avoid the rote-ness of a midair flight.
Respecting the power of my own Spirit,
I bicycle along the coast, peddle by peddle,
embracing circumstance upon that beautiful horizon,
where the possibilities remain endless.
Yet somehow, I return, drawn by the experience
which, against convention, always amazes.
Daylight admittedly ceding to darkness,
but hopeful still, for a ray of the Sun's warmth.