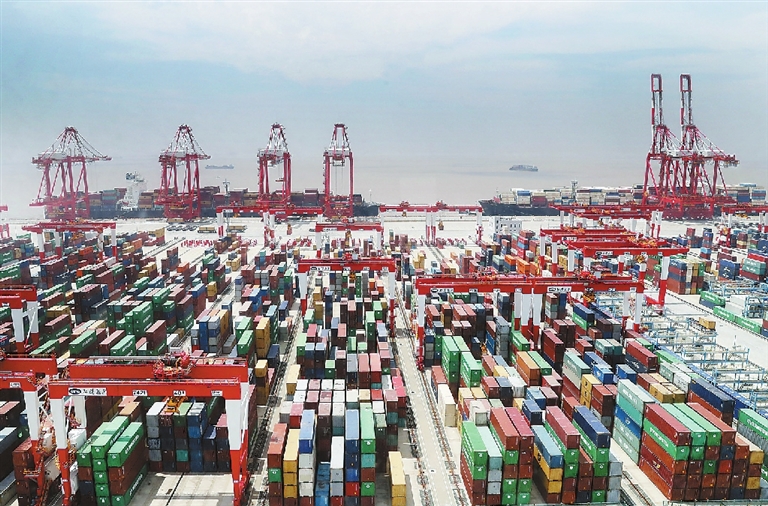 WHEN assigned a New Year task from his company's U.S. headquarters a decade ago, Yang Jin, president of T.Y.LIN International China Engineering and Consulting Co., a top engineering services branch based in the municipality of Chongqing, considered it "completely unrealistic."
As far as Yang knew, the total business volume of T.Y.Lin's Chinese subsidiary in 2009 barely reached 100 million yuan (US$14.9 million), but the U.S. headquarters expected the number to reach 1 billion yuan by 2019.
In a surprise twist, T.Y.Lin China's business volume snowballed to over 2 billion yuan by 2018 with new branches in 16 provinces in addition to its Chongqing base.
"Now it seems an easy target rather than just a dream, but most people would have called that mission impossible 10 years ago," Yang said.
The once-insignificant Chinese subsidiary has now become a major contributor to the group's global business, with an annual growth rate of more than 30 percent in the past three years.
T.Y.Lin China's impressive growth was largely due to the country's continued efforts to reform and open up, especially since the Central Government announced its "Go West" campaign in 1999, said Yang, also a member of the Chongqing Municipal Committee of the Chinese People's Political Consultative Conference (CPPCC).
Yang said the company eyed the huge demand for bridges and infrastructure in China and chose Chongqing, an economic center of upstream Yangtze River, to start the business in China.
And this year, Yang has high hopes for the foreign investment law scheduled for deliberation during the "Two Sessions," the annual sessions of China's national legislature and political advisory body in March.
Yang believes the law will deliver the Central Government's pledge to further open up to foreign investors. Lower industry and regional barriers, as well measures to widen market access, are topics Yang pays much attention to.
T.Y.Lin China and many other foreign businesses across the country have experienced blockbuster returns from China's huge market and robust growth since the reform and opening-up drive began in the late 1970s.
According to the American Chamber of Commerce in South China's annual white paper on China's business environment and a special report on the state of business in South China, 240 surveyed companies, mostly foreign-funded multinational companies, have increased their 2019 China reinvestment budgets from profits by a whopping average of 37.9 percent over 2018.
Win-win outcome
Analysts say the foreign investment law, once adopted, will underpin China's economy in 2019, further creating abundant opportunities for global investors who are prepared to secure a place in the world's second-largest economy.
The unified law is expected to replace three existing laws on Chinese-foreign equity joint ventures, non-equity joint ventures (or contractual joint ventures) and wholly foreign-owned enterprises.
By the end of October 2018, nearly 950,000 foreign-funded companies had registered in China, bringing in an accumulated investment of over US$2.1 trillion and serving as an important driving force in China's economic and social development.
However, the existing laws could hardly keep up with the changing requirements in building a new system for an open economy, as noted in the eighth session of the Standing Committee of the National People's Congress (NPC) during the second reading of the foreign investment law.
The law will adopt a model of pre-establishment national treatment with a negative list, encourage equal participation in government procurement and strengthen protection of the property rights of companies with foreign investment, said Zhou Mi, a researcher with the Chinese Academy of International Trade and Economic Cooperation.
The foreign investment law would be highly significant for China becoming more consistent with international practices, protecting the legitimate rights and interests of foreign investors, and ensuring fair competition, said Loh Jen-yuh, president of China & Investment Management of CapitaLand Group, one of Asia's largest real estate companies. "The law will reassure foreign companies in China as policymakers in Beijing ramp up efforts to build a better business environment for them," said Loh.
Better business environment
Amid a global economic downturn and rising protectionist sentiment overseas, China remained a strong recipient of foreign direct investment (FDI) in 2018.
Statistics from the Ministry of Commerce show a record FDI of 885.61 billion yuan flowed into China last year.
In South China's Guangdong Province, a coastal region that contributes over 10 percent of the country's economic output, LG Display, a major OLED display producer, built its biggest overseas factory in the provincial capital of Guangzhou last July.
According to LG Display, its Guangdong factory and two other production bases in East China's Shandong and Jiangsu provinces now play a pivotal role in the global supply chain of OLED displays.
"The LG group entered China as early as 1993, and has witnessed the improvement of China's investment environment over the years," said Yu Qinjiang, head of LG Display in China.
China has taken a string of measures in increasing imports, reducing taxes and fees, easing market access and improving its business environment.
"Foreign businesses in China have seen remarkable improvement of efficiency in securing permits and licenses, custom clearance and taxation. China has also enhanced its protection over intellectual property rights," Yu added.
Starting from the Shanghai Free Trade Zone (FTZ) in 2013, China has built 12 pilot zones nationwide, serving as test fields for reforms and high-level opening up.
Formerly restricted sectors such as financial services, information technology and motor vehicle manufacturing are now opening their doors to foreign firms.
On Jan. 7, U.S. electric carmaker Tesla Inc. broke new ground with its Shanghai factory, becoming the first to benefit from a new policy allowing foreign carmakers to set up wholly-owned subsidiaries in China.
"In the context of rising trade protectionism and economic nationalism, China's move to enact a unified foreign investment law shows its commitment to fulfilling its pledge to further opening up and to protecting the rights of foreign investors," said Xiao Yaofei, a professor with Guangdong University of Foreign Studies.
"It is clear proof of China's firm stance to support economic globalization," he said.
(Xinhua)