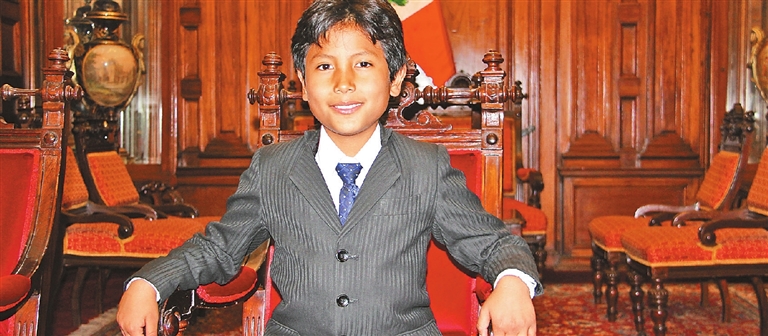 7岁开学生银行, "霸道总裁"变"废"为钱,传播储蓄意识
Many children dream of becoming entrepreneurs when they grow up, but very few start as early as Jose Adolfo Quisocala Condori, a Peruvian boy who started a children's savings bank when he was only 7 years old. Today, his bank serves over 2,000 clients and offers various financial services.
Condori got the idea for a children's savings bank six years ago, after noticing that many of his peers were spending their money on sweets and toys, instead of saving it for more meaningful purchases. Despite his young age, he understood that saving money and accessing the financial system were two ways that adults — like his parents — solved many of their financial and social problems, so he decided to make them available to kids as well.
He then started thinking of ways that children could generate money without the help of their parents, and recycling seemed like the obvious answer.
Condori was sure that he was on to something, but when he pitched his idea for a children's bank to his teachers, he was told that a 7-year-old couldn't handle such a project. But he proved them all wrong.
"At the beginning, my teachers thought I was crazy or that a child could not undertake this type of project," Condori recalls. "They did not understand that we are not the future of the country but its present. Luckily, I had the support of the school principal and an assistant in my classroom. I had to endure the jokes and bullying of my classmates for the work I was doing."
Condori founded the Bartselana Student Bank in his home city of Arequipa in 2012. Children could become clients of the bank by turning in at least five kilograms of recyclable waste (paper or plastic) and were required to deposit at least one other kilogram of waste every month, in order to maintain their membership status. They would then set a savings goal, and could only withdraw money from their accounts when they reached their savings goal.
The 7-year-old reached an arrangement with local recycling companies that offered his clients a higher price per kilogram of recyclable waste, with all proceeds deposited straight into their accounts.
Between 2012 and 2013, the Bartselana Student Bank collected one ton of recyclable material and generated savings for 200 children at Condori's school.
The Bartselana Student Bank has been growing every year since its inception, and today it has over 2,000 clients aged 10 to 18. Condori strongly believes that instilling a culture of saving from childhood is one formula to promoting real change in Peru.
For his achievements, Condori has received several honorary awards, has been featured in foreign documentaries and has been invited to events in countries all over the world. (SD-Agencies)