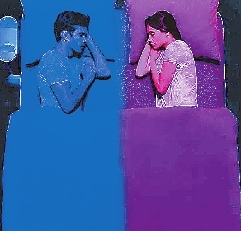 能同时调节两种温度的床垫
A smart mattress that controls the temperature on each side of a double bed could mean the end of couples squabbling over stealing the duvet in the night.
The Pod mattress works out the perfect setting for each side based on your body temperature as you sleep. It then warms or cools your side of the bed according to how hot or cold you are, using water fed into pipes under the mattress. The mattresses have four layers, including an active grid that regulates the temperature on both sides.
The system was created by sleep tech company Eight Sleep based in New York. Its variable temperature feature allows you to regulate this according to your sleeping habits and what time you wake up and doze off.
A pump called "The Hub" stores the water that is used to heat and cool the mattress, which is delivered via a pipe. The Hub also connects the mattress to your phone using Bluetooth. Its companion app can set a temperature range of 12-46 degrees Celsius. There are also options to connect your mattress to smart lights and other products — including a coffee maker.
The average person sleeps for one-third of our lives, but we're only now waking up to the importance of getting a good night's shut-eye.
Pod's starting price is US$1,995 for a double bed, with queen and king sizes also available at US$2,195 and US$2,495.(SD-Agencies)