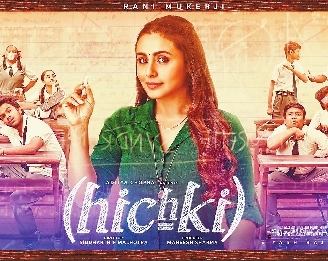 Ye Fan, Class 3, Senior 1, Xin'an Middle School
深圳市新安中学(集团)高一(3)班 叶芃
"Hichki" is an inspirational movie directed by Siddhanh Malhdra, telling the story of an excellent teacher.
The movie focuses on a school trying to show there are no bad students who can't be taught. In this film, 14 students in Class 9F are excluded because of their poor academic performance. No one wants to make friends with them and even some teachers dislike them.
It all changes when the heroine, an enthusiastic woman named Naina Mathur who suffers from Tourette's Syndrome, arrives. Her father abandoned her when she was a child because of her condition.
Luckily, Naina met Principal Khan who was a wonderful teacher that helped Naina find confidence. After that, Naina decided to become a teacher like Khan, however many schools rejected her because of her illness. Eventually, she was admitted to St. Tick's School.
At first, the students of Class 9F do not accept her and played pranks. To their surprise, Naina doesn't give up. She uses special teaching methods to make them happy while studying and they begin to change.
They study hard and show a cheerful side, and eventually receive amazing scores on the final exam.
The film touched many viewers including me. It is a very real story and tells us that everyone can make progress as long as he or she makes a change.