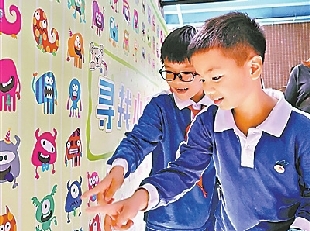 FUTIAN District will add around 4,170 school slots in primary and secondary schools and 600 slots in kindergartens, build two new kindergartens, finish the building of the Hongling Experimental Primary School and Shenkang School, and complete the extension project of Gangxia Primary School in 2019, according to the 2019 working plan of education development in Futian District issued at an education meeting held Feb. 26.
According to the plan, Futian District will facilitate the building of new public kindergartens and turn over private kindergartens whose property rights are owned by the government and have expired contracts, which grant the rights to run the schools to the public. Moreover, the district will continue to promote noon service for children, including nutritious lunches and comfortable beds.
Additionally, Futian will cooperate with Pingshan District to build the city's first brand public secondary school that offers full boarding services, and will establish a senior middle school with 36 classes in Dapeng New Area.
National Institute of Education Sciences plans to build two Mainland-Hong Kong STEM cooperation centers. A Mainland-Hong Kong STEM education research center was established in Hong Kong last year, while the Mainland-Hong Kong STEM teacher research center is about to be inaugurated in Futian, according to Tian Hongming, director of the Futian education bureau.
"In terms of special education, more resources will be provided," said Tian. Zhuxiang School, which offers special education, will add a new class to enroll 11 students this September. Additionally, the district will issue relevant policies to encourage more educational institutes offering regular preschool education to enroll disabled students. The district will help Zhuxiang School open a preschool class for those who are not able to receive education with regular kids once the conditions are mature.
In 2018, Futian District added 4,200 school slots for compulsory education and 1,170 school slots for preschool education. At the same time, Tian said that there was a huge increase in the level of compulsory education in Futian District, quoting data from a review of 2018 compulsory education.(Wang Jingli)