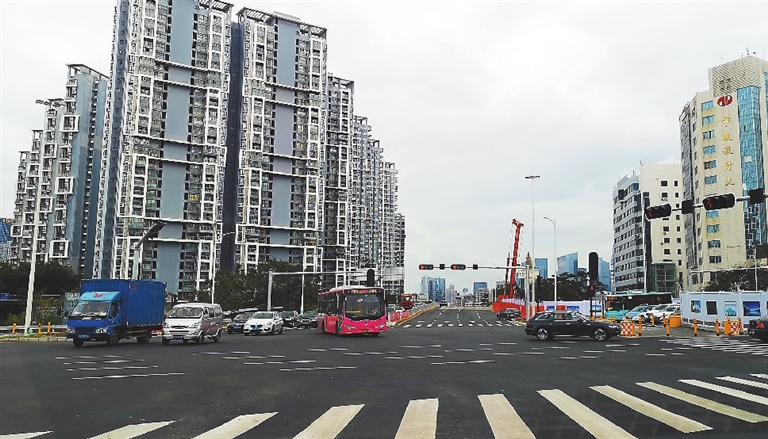 Han Ximin
ximhan@126.com
AT 11:45 p.m. Feb. 15, vehicles following police motorcycles passed through the Huangmugang intersection in Futian District, marking the resumption of traffic on Sungang Road West, Huafu Road and Nigang West Road, two days ahead of the original schedule.
The road section was closed due to the dismantlement of Huangmugang Flyover.
The dismantlement work started Jan. 29 and was completed Feb. 6, and the road surfacing projects were completed in the following week.
Within nine days, a team of 1,500 people, 2,340 vehicles and around 30 cranes worked around the clock to dismantle the flyover complex consisting of five bridges and made of nearly 15,000 cubic meters of concrete.
The 34 bus services that were forced to change their routes due to the dismantlement of the Huangmugang Flyover have also returned to normal.
The dismantlement of the flyover complex gives way to the construction of Huangmugang Transport Hub, where existing Metro Line 7 and future lines 14 and 21 will meet. The construction of Metro Line 14 was delayed by the flyover's underground piles, which obstructed the space of the underground transport hub that covers an area of 135,000 square meters.
Huangmugang Flyover in Futian District, a four-layer overpass with viaducts sprawling over the intersection of Huafu Road and Sungang Road West, fragmented the ground area and the traffic system and regional development in the area.
The city government decided to incorporate the dismantlement of the flyover into the area's regional plan, including the renovation and rejuvenation of Shenzhen No. 2 People's Hospital, Shenzhen Stadium and Huafucun estate.
The transport hub project is expected to be finished by 2022.