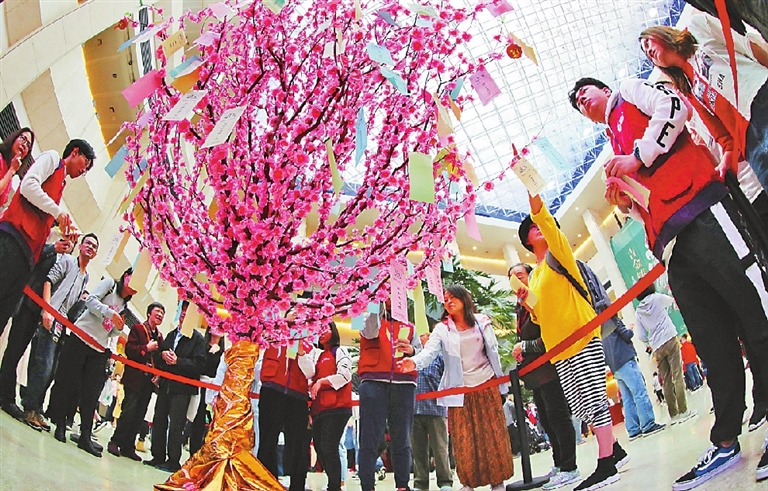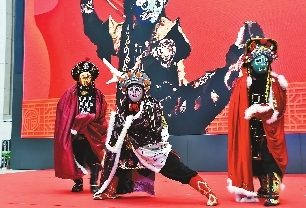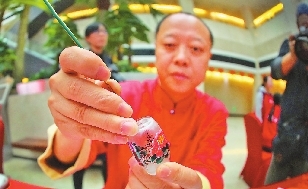 A STRING of festive events, such as riddle-solving and folk art demonstrations, were held Feb. 19 at the new Shenzhen Museum to mark the Lantern Festival. This year, Feb. 19 is the 15th day of the first month in the Chinese lunar calendar, the final day of the traditional Chinese New Year celebration. All events were free to residents.
Highlighted performances included Sichuan opera face-changing and musical saw performances. Face-changing is an ancient Chinese art that is part of Sichuan opera. Performers wear brightly colored costumes and masks, typically depicting well-known characters from the opera. They change from one mask to another almost instantaneously with the swipe of a fan, the movement of the head, or the wave of the hand.
Shenzhen musician Li Yuanqing played the musical saw, a flexible handsaw played by holding the handle between the knees and bending the blade while bowing along the flat edge. The musical saw is found in the folk music of Russia and rural America, and is a popular vaudeville instrument.
Meanwhile, lion dances, Hakka songs, Beijing opera, Cantonese opera, Henan opera, martial arts, and handicraft demonstrations, such as paper-cutting, rope-knitting, dough sculpture and walnut sculpture, were also presented. The museum served tangyuan, a glutinous rice ball filled with sesame or peanut butter, to visitors after the performances. Tangyuan is a typical snack eaten during the Lantern Festival.
(Cao Zhen)