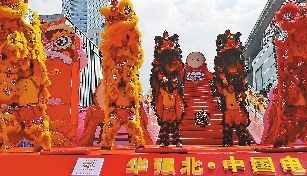 THE seventh edition of an annual lion dance event was held on the opening day for businesses on Huaqiangbei Commercial Street on Feb. 21 after the Spring Festival, a practice that is believed to bring good luck and prosperity to the street.
The annual ceremony has become one of Huaqiangbei's signature Chinese New Year cultural events.
The event began with a robot dancing performance in which robots waved their hands to greet customers. After that, several drones flew in formation to convey beautiful wishes for Huaqiangbei.
Traditional Chinese cultural elements including Peking opera and an instrumental musical performance were also featured at the event.
A lion dance performance led by Huang Xingliang, heir of the provincial-level intangible cultural heritage custom, was definitely the biggest highlight of the day.
With the deafening sounds of gongs and drums, performers paid visits to tenants along the street holding scrolls with blessings and attracted a big crowd.
According to an official from Huaqiangbei Subdistrict, Huaqiangbei has organized a variety of cultural events such as the Huaqiangbei Science and Technology Art Festival, the Shenzhen Huaqiangbei International Urban Oil Painting Exhibition and The Voice of Huaqiangbei singing contest over the past year.
He added that this year Huaqiangbei will organize various cultural events featuring technology and fashion. (Yang Mei)