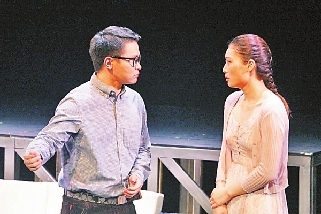 Shenzhen's original drama "Where Am I Going" will be staged at the Futian District Cultural Center Music Theme Pavilion.
The drama tells the story of a process of self-redemption. The heroine is full of enthusiasm and confidence for her bright future, but she is repeatedly frustrated when her boyfriend and she pursue success in the way they think is right. She tutors in an elite home but causes the owner's child to die. Then her boyfriend breaks up with her. After all these blows, she feels utterly disheartened and loses hope for the life she wanted.
Through the development of the story, the drama satirizes utilitarianism and materialism in society.
Time: 2:30 a.m., 8 p.m., March 27
Tickets: 50-200 yuan
Venue: Futian District Cultural Center Music Theme Pavilion, 2 Jingtian East 1st Street, Futian District (福田区景田东一街2号福田文化馆音乐馆)
Metro: Line 2 or 9 to Jingtian Station
(景田站), Exit E (SD News)