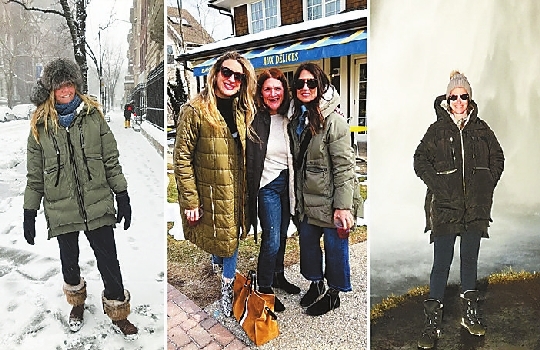 WHILE it's almost summer here in Shenzhen, it's still freezing cold in New York City.
Though you may not have heard of it in China, the most popular coat that has taken over New York City and Instagram is made by Orolay, a company in Jiaxing, Zhejiang Province, and retails on Amazon.com for US$129.99.
On the shopping site, the Orolay Thicken Down Jacket has racked up over 5,000 reviews with an average 4.3 rating, making it the best-selling item in the Women's Down Jackets & Parkas category.
Wind-proof, water resistant, and machine washable (so long as your remove the faux fur), it's just the thing for those brutal winters upon New Yorkers. The horizontal quilting and exposed zippers above the pockets and down the sides make it just the right amount of edgy. It ranges in size from XXS to XXL, and comes in black, beige, green, navy blue and gray, so there's something for every color palette.
Gretchen Fenton, a style consultant who lives on the Upper East Side, first noticed the coat on her friend Fernanda Niven, a creative director who also lives on the Upper East Side. Niven heard about it from Cayli Cavaco, the founder of Knockout Beauty, and told some 20 people about it.
But in case it seemed like Cavaco was the first to wear the coat: Lauren Epstein, a Chinatown-based stylist, heard about it from her friend who lives on the Upper East Side - who says she first saw it on her daughter's preschool teacher at the 92nd Street Y. The teacher at the 92nd Street Y, Jessica Reich, found it on a travel blog she liked, The Blonde Abroad, while planning for a trip to Iceland in 2016. So maybe Reich got the ball rolling. But who can say, really.
It's the most popular coat of the winter, at least among a certain set of stylish uptown women. "I first saw it on one of my mom friends," said Ana Maria Pimentel, the fashion director at Neiman Marcus. "She said, oh it's an Amazon coat. I bought it. Two weeks later, I went to a Soulcycle on 83rd and I was one of four people wearing it. And I think one of them was [socialite and creative consultant] Lauren DuPont."
The coat's appeal lies in its fashionable-yet-accessible, lightly directional look (the voluminous paneling and zippers have a little Balenciaga influence) and its startling price — the super-stylish women who own it take pleasure in telling curious onlookers that no, their jacket is not Sacai, and, actually, it costs US$100, including shipping if you're an Amazon Prime member. "I think the intrigue is both that it's super attainable, and super different — something that spread solely by word of mouth, something that no one knows about," says Pimentel.
Except now, of course, people do know about it. (SD-Agencies)