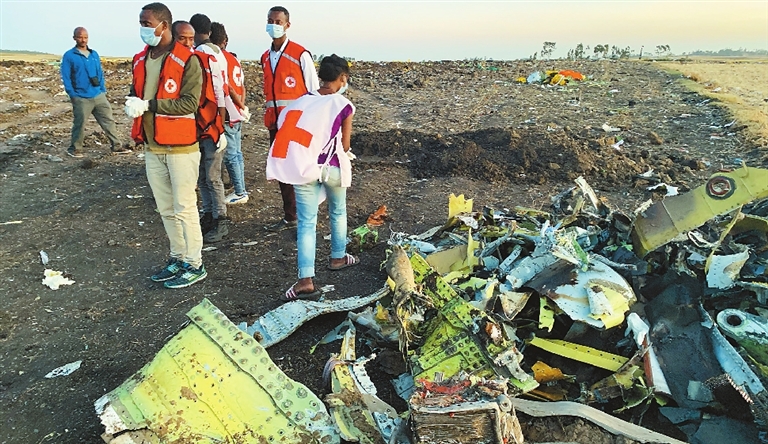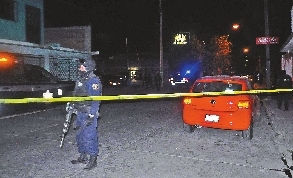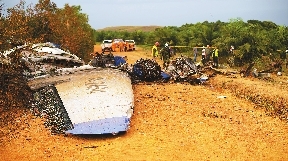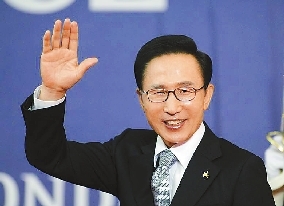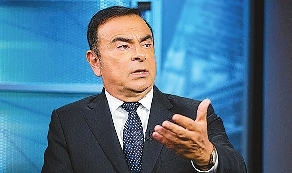 Ethiopian Airlines flight to Nairobi crashes, killing 157
Members of the search and rescue mission look for dead bodies of passengers at the scene of the Ethiopian Airlines Flight ET 302 plane crash near the town of Bishoftu, southeast of Addis Ababa, Ethiopia, on Sunday. The Ethiopian Airlines Boeing 737 passenger jet to Nairobi crashed on Sunday with 149 passengers and eight crew members aboard, the airline said, and there were no survivors. China's Central Television Station said eight Chinese were among the passengers.SD-Agencies
Mexico club attack leaves at least 15 dead
Armed assailants* opened fire in a nightclub in central Mexico in the early hours of Saturday, leaving at least 15 people dead and three others wounded, prosecutors said.
The incident took place in the city of Salamanca in Guanajuato state, where authorities have launched an operation against criminal gangs involved in fuel theft.
The armed men fled the La Playa club in an escape car, prosecutors said, adding that an investigation had been opened.
14 killed in Colombia plane crash
Fourteen people were killed in a plane crash in the Colombian plains province of Meta on Saturday, the country's civil aviation agency said.
The Special Administrative Unit of Civil Aeronautics* said there were no survivors of the crash, which occurred after the DC-3 aircraft made a distress call* at 10:40 a.m. local time.
The plane, which is owned by Laser Aereo airlines, was en route from the southern city of San Jose del Guaviare to central Villavicencio, the agency said. It crashed about midway through its flight, in San Carlos de Guaroa municipality.
Lee Myung-bak granted bail in bribery case
Former South Korean President Lee Myung-bak was released from detention on March 6 after a court approved 1 billion won (US$885,000) bail nearly a year after his arrest and during the ongoing appeal of his corruption conviction and sentence.
An official from the Seoul High Court said Lee was permitted to return home after he accepted strict monitoring conditions that resemble house arrest, including a ban on meeting or communicating with people beyond direct family members and lawyers. The official didn't want to be named, citing office rules.
Japanese court grants bail to ex-Nissan chair Ghosn
A Japanese court has granted bail to ousted Nissan Motor Co. chairman Carlos Ghosn last week more than three months after his arrest for alleged financial crimes, on condition he submit to video surveillance* and communications monitoring.
The architect* of the Renault-Nissan tie-up, and until his arrest in November one of the global auto industry's most feted executives, has walked free after his bail was set at 1 billion yen (US$8.9 million).
Patient might be 2nd to be cured of AIDS
An HIV-positive man in Britain has become the second known adult worldwide to be cleared of the AIDS virus after he received a bone marrow* transplant from an HIV resistant donor, his doctors said.
Almost three years after receiving bone marrow stem cells from a donor with a rare genetic mutation* that resists HIV infection — and more than 18 months after coming off antiretroviral* drugs — highly sensitive tests still show no trace of the man's previous HIV infection.
(SD-Agencies)