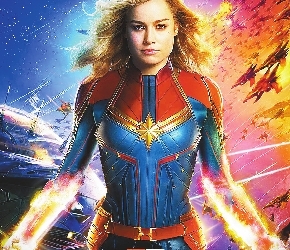 Ginny, Shenzhen College of International Education
International Women's Day has just passed, and I believe we were all having some powerful female individuals in our minds, standing in battlefields with courage. Some movies focus on the appearance and stature of women — take the dressing as an example — or showed over-exposed clothing on heroines (which I think is inappropriate for fighting a war). "Captain Marvel," however, aimed at the capability and potentiality in its leading female warrior, Carol Danvers, with a proper suit for executing tasks instead.
"Captain Marvel" is the latest film of the MCU (Marvel Cinematic Universe) franchise which hooked attention from both Marvel fans and other people. It illustrated the origin of Carol Danvers and how she first completed a mission, picked the right side and offered a new home to an alien race. The story happened in the era which the recent "S.H.I.E.L.D." director, Fury, was still an ordinary agent with both eyes. It is the first movie with a heroine as the main character in MCU.
The film, released on International Women's Day on the Chinese mainland, had an implication that we girls should ignore the sounds of discrimination and chase our wildest dreams without fear. Another idea that I liked is that there was an orange cat which played a relatively important part in the movie. In my opinion, adding animal characters is a way of showing humor and making the film more beloved.
Nevertheless, I found some parts a little confusing. The alien race I mentioned above was originally the enemy of Captain Marvel, but this was a huge misunderstanding. However, the aliens did not declare the truth until they had a conflict with Captain Marvel, for they captured her and invaded her brain to find clues of the catastrophe they faced. However, if the confession was made at the beginning, there would not be a turn that made the movie more colorful, so I saw this as a mean of enriching the plot.
"While I was watching Carol Danvers, other Marvel characters flashed into my mind. I saw the insistence of Captain America, the strength of Hulk, the superpowers of Thor, and the fighting skills of Black Widow, said a comment online.
All in all, as a Marvel fan who just jumped in the "crater" of MCU a few months ago, I think the movie was astonishing. And it is said that Captain Marvel will return in "Avengers: Endgame," and she will be crucial for defeating Thanos (a muscular villain that killed half of the Earth's population). Since she assembled a lot of other Avengers' abilities in her (as I mentioned in the last paragraph), I am very convinced: Thanos, you will be doomed!