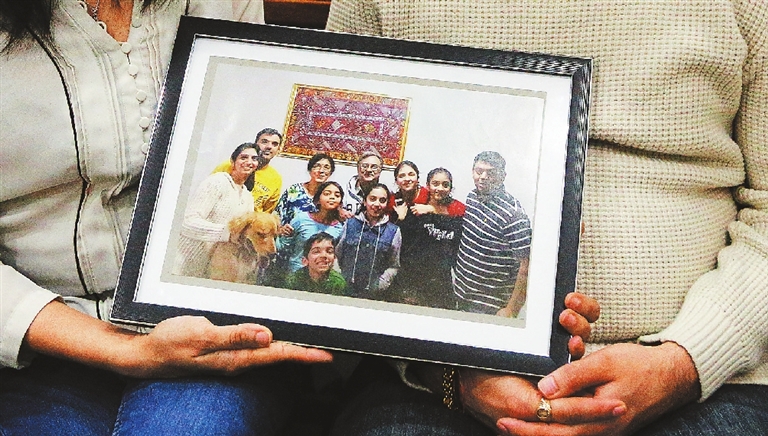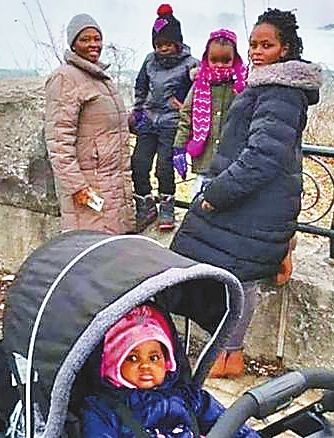 A FEW days before Caroline Karanja boarded the ill-fated Ethiopian Airlines flight to Kenya that crashed Sunday, she sent a message to her sister saying she had an uneasy feeling.
"My heart isn't really excited. I feel like there's something bad ahead, but I don't know what," the WhatsApp message read.
Kelly Karanja told her older sibling to pray about it and asked her when the family would arrive in Kenya.
"10th. Will let you know the time," Caroline responded.
Caroline Karanja was so worried about the trip that she sent similar messages to her father, John Quindos Karanja, and her friend Florence Brown, they said.
The Canadian resident's premonition sadly came to pass, and Caroline Karanja was among the 157 passengers and crew killed when the plane crashed just minutes after taking off from Bole International Airport in Addis Ababa.
Also on the flight was her mother, Ann Wangui Karanja, and Caroline's three children: Ryan Njoroge, 7, Kellie Pauls Njoroge, 4, and 9-month-old daughter Rubi Njoroge.
Ontario-based Caroline Karanja was taking Rubi home for the first time to meet her Kenyan family.
Kelly Karanja said Caroline Karanja was deeply connected to situations and always knew how to read things.
"She was always the telepathic one," Kelly Karanja said. "She was also jovial, funny, selfless, the one who brought the family together. We are not able to put into words the kind of woman she was. She was just awesome," Karanja told CNN.
The day she boarded her flight, Caroline Karanja texted her father and again expressed her fear for the impending journey.
John Quindos Karanja said: "The day before the flight my daughter sent me a message — and she told me I'm not excited. 'I don't know what is happening dad. I am fearing and I don't know what it is in me,' She had fears. So I thought that was normal. We never interacted again."
Ryan, her eldest son, was very close with his grandfather, whom he called "Guju." They would speak every day via video call, John Quindos Karanj said.
A few days before they flew out, Ryan spoke to his grandfather and told him "I am going to borrow some money from my dad and buy you a present," said Kelly Karanja, who lives in Kenya.
Before relocating to Hamilton, Ontario, in May 2017, Caroline Karanja split her time between Boston and Kenya. The accountant also lived in Bermuda, where her husband Paul Njoroge works. Paul Njoroge was unable to join the family on the homecoming trip.
Karanja's friends painted a picture of a doting mom, who juggled a hectic work schedule as an accountant at an energy firm in Canada.
"She enjoyed cooking for them, breakfast, lunch, and dinner. She was a true homemaker," said Brown, her friend of six years. "It took a while for me to convince her that it was OK to give her kids some KFC, some TV dinners, especially when she was overwhelmed and busy."
Brown shared Caroline Karanja's last post on Facebook a day before she boarded the flight. She asked her friends for tips on what kinds of food to give Rubi on the flight.
"She is so fussy when hungry and nursing her isn't enough 'cos she is a big girl now. She eats more than my 4-year-old; what can I carry for her?" Karanja asked her friends.
The day after they got the news, the grandfather turned to his son Quindos Mwangi Karanja and said: "I wonder what Ryan was bringing for me?"
Three generations of another Canadian family were also among the victims of the plane crash Sunday, a relative confirmed Wednesday.
They were on their way to a Kenya vacation. Prerit Dixit, 43, and Kosha Vaidya, 37, their daughters Ashka Dixit, 14, and Anushka Dixit, 13, and Vaidya's parents Pannagesh Vaidya, 73, and Hansini Vaidya, 67, were among the 18 Canadians killed. They lived in Brampton, a Toronto suburb.
"This is terrible and tragic," said Manant Vaidya, brother of Kosha Vaidya. "It feels as if my whole support system has disappeared. I have no idea how we will cope up with this tragedy."
The Dixit-Vaidya family was flying to Kenya so that Kosha Vaidya could show her Canadian-born daughters the country of her birth, Manant Vaidya said, adding his parents were returning there for the first time in more than 50 years.
Manant Vaidya works for the Reuters parent company Thomson Reuters.
Prerit Dixit worked at medical-testing company LifeLabs as a lab technician and as a lab professional for Public Health Ontario. In email statements, both remembered his helpful and pleasant demeanor, his sense of humor and his dedication to family.
Kosha Vaidya had been a human resources adviser for the Canadian Hearing Society since 2017, the organization said in a website statement, adding she would be "remembered for her intelligence, professionalism and dynamic personality."
Among the 157 plane crash victims were dozens of international aid workers hailing from several countries in Africa and around the globe.
Described as dedicated and impassioned employees of nonprofit environmental, immigration and refugee organizations, they lost their lives alongside pastors, professors, ambassadors, archaeologist, police chiefs and respected writers and sports leaders.
The Red Cross; The United Nations' World Food Program; the International Committee for the Development of Peoples; the World Council of Churches; and Civil Rights Defenders, an international human rights group based in Stockholm, were among humanitarian and cultural groups reporting losses.
Shikha Garg, who was traveling to attend the annual assembly of the U.N. Environment Program, had got married less than three months ago to Soumya Bhattacharya.
Bhattacharya was also supposed to fly with her to Nairobi but a last-minute change in plans meant he stayed back in New Delhi, the Times of India reported.
"I have boarded the flight and will call you once I land," Garg texted.
But before the husband could type a reply, his phone buzzed and a caller informed him about the plane crash, the newspaper said.
Back at Caroline Karanja's home in Kenya, a devastated family is trying to come to terms with the loss of three generations.
The Karanja home is in a small village outside the city of Nakuru, northwest of Nairobi, in the Great Rift Valley.
The family compound comprises a few buildings hidden behind a bright blue gate.
Visitors have not stopped trooping into the home to pay their respects since news of the crash. More than 100 people have visited each day since Sunday.
A group of women make huge pots of tea for the visitors as they sit and reminisce and pay their condolences.
They are part of a local group mentored by Ann, the matriarch of the family and a former primary school teacher, who was also killed on the flight.
"We'll never get another person like her — she's left a gap that no one can fill. She was so generous to us. We have to be generous to honor her," said Monica Magiri, a neighbor.
As questions are asked about the safety of the Boeing 737 Max 8 aircraft and airlines around the world are grounding the aircraft, Caroline Karanja's brother says he has no interest in pointing the blame for his sister's and her family's death.
"If you look at having to point blame on others, I think it will make the healing process a bit more hard for us," Quindos Mwangi Karanja said.
"I might not know exactly whether to blame the plane but let the experts finish their investigations, and then they are able to tell us the way forward."(SD-Agencies)