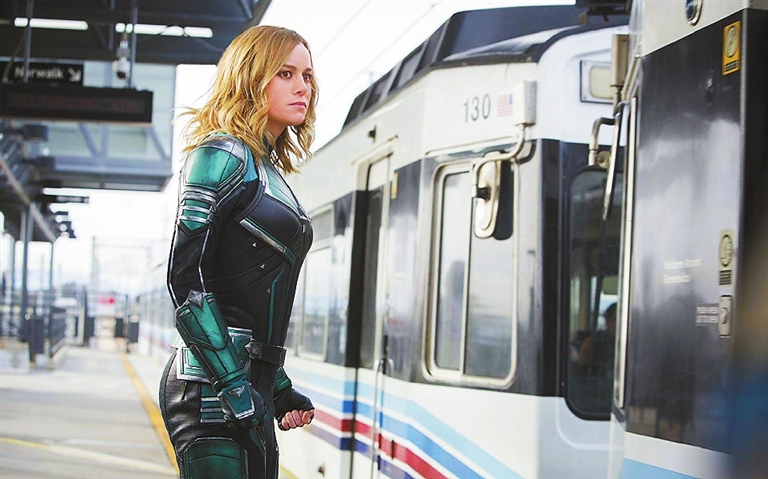 Starring: Brie Larson, Samuel L. Jackson, Ben Mendelsohn, Djimon Hounsou, Lee Pace, Lashana Lynch Director: Anna Boden, Ryan Fleck
CAROL DANVERS blasts into the Marvel Cinematic Universe with a film which is fun and breezy but also a tad familiar. "Captain Marvel" doesn't have the daunting stakes of "Avengers: Infinity War" or the cheeky irreverence of the "Guardians of the Galaxy" series. Perhaps not surprisingly then, it mostly plays like a perfectly solid addition to this massive commercial franchise, bolstered by the fact that it's the series' first entry to focus on a female superhero. Brie Larson gives Danvers the right mixture of sweetness, humor and swagger, underlining the film's message of self-empowerment with a light touch.
Opened in China, Britain and the United States on March 8, "Captain Marvel" seems poised to be Marvel's latest smash — the only question is how high it will fly. Larson's star power, aided by the presence of Samuel L. Jackson and Jude Law in the supporting cast, will only further raise awareness for a potential box-office titan that needs no such assistance.
Larson plays Vers, who is part of an elite extra-terrestrial team of Kree soldiers fighting the dangerous, shape-shifting Skrulls, led by the fiendish Talos (Ben Mendelsohn). In the midst of a battle with the Skrulls, Vers is transported to a strange, primitive planet, Earth, which is unfamiliar to her — at least, that's what she thinks. Soon, though, she begins to see correlations between strange visions she has been experiencing and incidents on Earth, especially after Maria Rambeau (Lashana Lynch), an expert fighter pilot, insists Vers is her best friend Carol Danvers, who supposedly died during a mission six years ago.
Unscrambling the mystery of precisely what is going on with Carol — and why she is experiencing these weird, vivid dreams — is part of the pleasure of Captain Marvel, which eschews the life-or-death drama which is often central to Marvel films. Instead, directors Anna Boden and Ryan Fleck ("Half Nelson," "Mississippi Grind") keep the story relatively small-scale for a superhero adventure, focusing on Danvers' search for her identity and establishing how "The Avengers" will eventually be assembled. (Set in 1995, "Captain Marvel" introduces us to a younger, less hardened Nick Fury, played by Jackson, who has yet to meet Iron Man, Hulk, Thor and the gang.)
The film indulges in plenty of nostalgia, featuring a soundtrack full of '90s hits and littering the plot with references to now-antiquated technology. (A running joke in "Captain Marvel" is that, as opposed to the high-tech weapons of the Kree and the Skrulls, Earthlings have to rely on dial-up internet connections and painfully slow computers.) The shout-outs to pop-culture detritus can become tiring, but for the most part Boden and Fleck have such fondness for the period that the obvious gags go down smoothly.
Much more winning is Larson's carefree turn as Danvers, who will eventually learn the alarming truth about her past. Clearly, "Captain Marvel" wants to strike a blow against the largely male-centric world of comic-book films — the film pointedly plays No Doubt's sarcastic "Just a Girl" during one of her climatic fight scenes — but the Oscar-winning actress is never strident or self-satisfied in the role, instead giving us a Captain Marvel who is powerful but also endearing. Notably, Danvers has no love interest — although she does have palpable chemistry with her Kree mentor Yon-Rogg (Law) — and "Captain Marvel" gives its heroine the space to discover her own greatness, a moment that Larson brings to stirring life.
Narratively, there are some satisfying twists, and Boden and Fleck (who have never before made anything resembling a blockbuster) demonstrate some aptitude for suspense sequences. But while Danvers spends the film trying to unlock exactly who she is, "Captain Marvel" itself experiences something of an identity crisis.
Partly a sci-fi adventure, partly a government thriller, and partly an Ant-Man-style riff on Marvel conventions, "Captain Marvel" has a charming modesty without necessarily standing apart from other entries in the franchise.
The movie is now being screened in Sehnzhen.
(SD-Agencies)