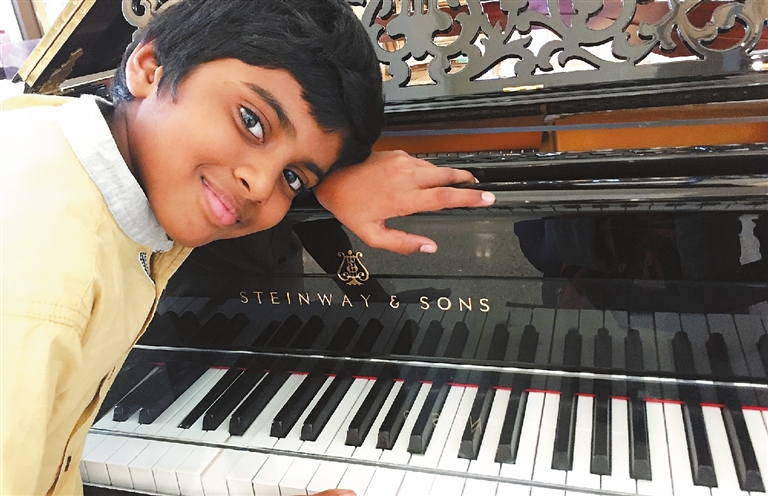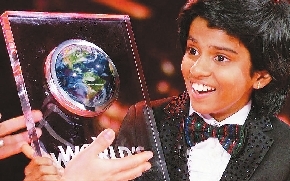 Child pianist Lydian Nadhaswaram of India won "The World's Best" talent show on March 13, defeating participants from more than 150 countries to pick up the US$1 million cash prize.
Nadhaswaram played two pianos at a time at an impeccable speed, blindfolded. He beat out South Korea's Kukkiwon, or The Flying Taekwondo Masters in the grand finale, with the final decision made by 50 representatives from 38 countries.
Hosted by James Corden, the audacious global talent show "The World's Best" premiered on Super Bowl Sunday on February 5 in the United States. The inaugural season saw Faith Hill, RuPaul Charles and Drew Barrymore on its judging panel.
"I have been playing the piano for four years. I got inspiration from my sister, who plays the piano and my father, who plays keyboards. I'm happy that I won this prize," said Lydian. "My parents home-school me so that I can solely concentrate on learning piano. I want to be the world's best composer," he added.
Lydian's father, Varshan Satish, who is a composer, said: "I can't contain my happiness. He started singing at an early age. I knew he would become a great composer one day."
Academy Award-winning Indian Tamil music director A. R. Rahman hailed Nadhaswaram as "India's musical ambassador."
"When I see Lydian, it gives me hope. He should be the answer to Chinese pianist Lang Lang. I think he will be India's musical ambassador," Rahman said at an anniversary celebration of his music school, KM Music Conservatory, which counts Nadhaswaram as one of its students. "I feel like Lydian's success is mine. Chennai is an ignored city and I'm thankful to Lydian for having given it worldwide recognition," Rahman added.
"I am very happy," gushed the 13-year-old. "It was my first competition and I wasn't nervous at all."
He also hopes to be a part of Elon Musk's Space X's program in 2023. Yusaku Maezawa, the billionaire founder of Japanese e-commerce giant Zozo, has mentioned plans to take a few musicians to the moon. "My dream is to play the piano on the moon," he said.
(SD-Agencies)