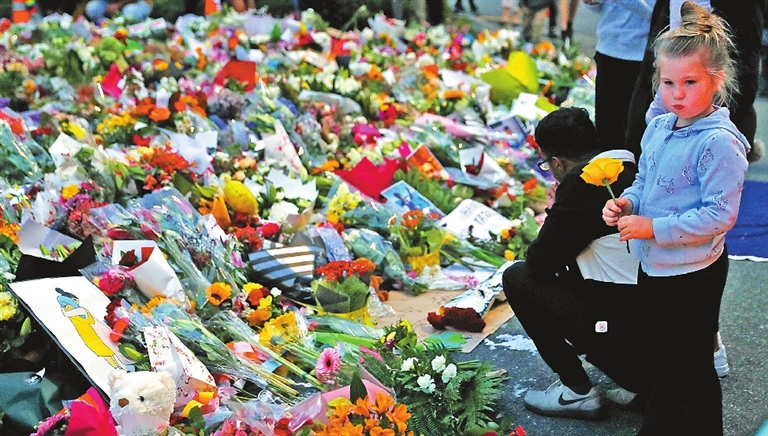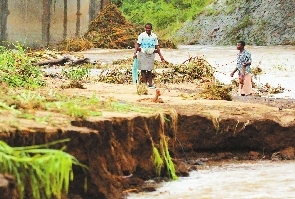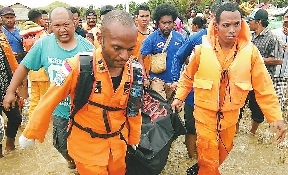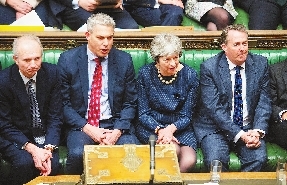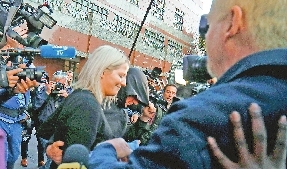 New Zealand releases bodies as shootings toll rises to 50
People visit a memorial site for victims of Friday's shooting in front of the Masjid Al Noor mosque* in Christchurch, New Zealand, on Monday. The bodies of some of the victims in New Zealand's mosque shootings were released on Sunday to loved ones for burial, Prime Minister Jacinda Ardern said, as the death toll rose to 50. Australian Brenton Tarrant, 28, a suspected white supremacist*, was charged with murder on Saturday.
SD-Agencies
120 dead after cyclone hits Mozambique, Zimbabwe
More than 120 people have died and many more are missing in Mozambique and neighboring Zimbabwe on Sunday after tropical cyclone Idai barrelled* across the southern African nations with flash floods and ferocious* winds.
Authorities in Mozambique said the toll there had risen to 62 in the center of the country, while Zimbabwe said 65 people were killed in affected eastern areas, after the cyclone tore across the region on Friday and Saturday.
Dozens killed in Indonesia flash floods, slides
Flash floods and mudslides triggered by days of torrential downpours tore through mountainside villages in Indonesia's easternmost province, killing at least 50 people and injuring 59 others, disaster officials said on Sunday.
The disaster in Papua province's Jayapura district submerged* hundreds of houses in neck-high water and mud, said National Disaster Mitigation Agency spokesman Sutopo Purwo Nugroho. The floods and slides also destroyed roads and bridges, hampering* rescue efforts. Nugroho said 50 bodies had been pulled from the mud and wreckage of crumpled homes by Sunday.
May: Back my deal or face long Brexit delay
British Prime Minister Theresa May warned lawmakers that unless they approved her Brexit divorce deal after two crushing defeats, Britain's exit from the European Union could face a long delay and could involve taking part in European parliament elections, according to an article in the Sunday Telegraph.
After two-and-a-half years of tortuous* divorce negotiations with the EU, the final outcome is still uncertain.
May issued Brexit supporters an ultimatum: ratify her deal by a European Council summit on March 21 or face a delay to Brexit well beyond on June 30.
Celebrities charged in US college bribery scam
Fifty people nationwide, including celebrities, powerful financiers and university coaches, were charged last week in a massive alleged admissions bribery scam that illustrated how wealth and fraud enabled students with mediocre* grades and unremarkable accomplishments to get into some of the United States' most elite institutions.
Federal prosecutors said wealthy parents tapped a California admissions counselor who helped their children cheat on the SAT and ACT exams and bribed college coaches.
US grounds Boeing 737 MAX aircraft
The ban on the Boeing 737 MAX aircraft became worldwide after U.S. President Donald Trump joined Canada and other countries in grounding the aircraft, and the black box from the plane were flown to France for analysis Thursday.
U.S. authorities said that new evidence showed similarities between the deadly crash of an Ethiopian Airlines Boeing 737 MAX 8 and a fatal accident in Indonesia in October.
(SD-Agencies)