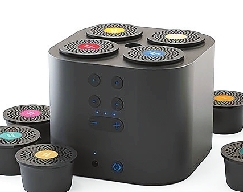 Agan Aroma's smart fragrance device will ensure your home always has the right scent to match your mood.
The firm recently debuted a smart home diffuser that allows you to instantly customize* scents depending on how you're feeling.
The US$139 device, called "Moodo," can be loaded with four different scent capsules* at a time, each of which can be adjusted to emit a stronger or weaker aroma.
Moodo can be controlled manually by the buttons on its side, or you can use the associated smartphone app to adjust the settings without having to get up.
It also pairs with a number of other connected devices, including Amazon's Alexa and Google Assistant.
While similar scent-customization devices have popped up in the last year or so, Moodo stands out in that it's geared toward the average person.
Scent packs, for example the Fresh Vibrations scent family or the Cozzzy line, cost just US$30 and are designed to last upwards of 60 hours.
Using four individual scent pods at a time means you can play with different combinations, tweaking the strength of each scent to make a personalized* aroma.
Moodo can also be programmed with the app to turn on at specific time intervals or on certain days of the week.
Moodo will soon be followed by a portable scent device, MoodoGo.
(SD-Agencies)