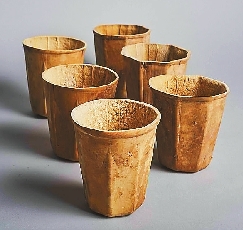 Coffee cups are being grown from fruit by a design company in a bid to cut down on plastic waste.
They are made from gourds*, a large fruit with a hard skin in the pumpkin family, using custom-designed moulds.
Crème, based in New York, claims that these biodegradable* cups can be manufactured on a mass scale, offering a more environmentally friendly alternative to paper cups.
Gourds are fast-growing plants that bear strong fruit each season. Once dried, the gourds' strong outer skin and fibrous* inner flesh becomes watertight*. These crops have been used for centuries across the globe as decorative or functional vessels.
Crème adapted a method using gourds to create mugs. The studio developed a stackable set of cups that mimic the silhouette* of a classic faceted* glass cup.
"We can grow gourds into customizable functional shapes, such as cups and flasks that can be composted* instead of filling up landfills like the plastic alternative," the design studio said.
The HyO-Cups, being biodegradable, could significantly help to reduce this waste, according to Crème.
They initially grew them outdoors but there were many barriers such as weather, pets, humidity* and flooding.
They are now growing them in a container laboratory set up in a shipping container. They say the next step for them is to grow them in an indoor laboratory.
(SD-Agencies)