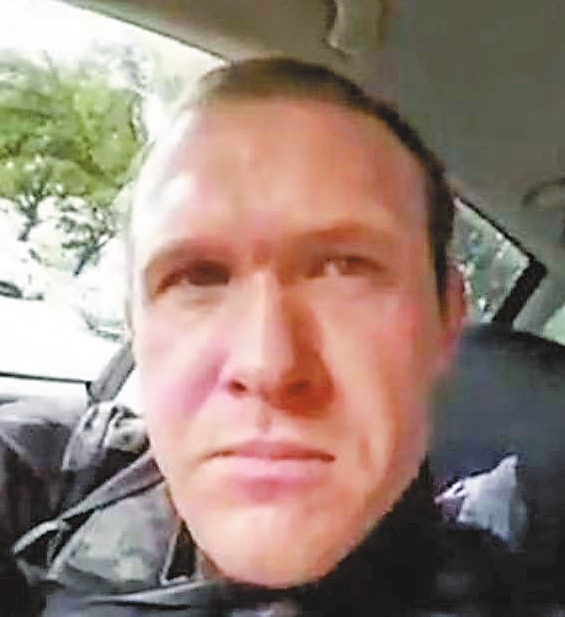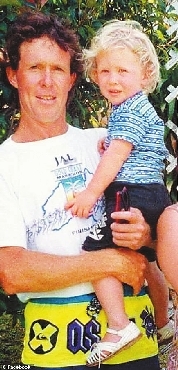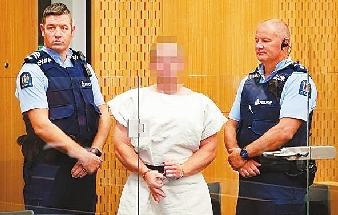 HE was never in a real army, but Brenton Tarrant wore military-style combat gear, called himself an "ethno-soldier" and talked of being in the middle of a "firefight." When he appeared in court in New Zealand on Saturday he wore handcuffs and a prison smock, but he acted as if he were some kind of warrior, proud of the havoc he had unleashed on a country unused to mass slaughter.
The 28-year-old Australian, charged with murder in connection with terrorist shootings at two New Zealand mosques that left dozens dead last week, smirked at the cameras and then formed his fingers into a circle, a gesture usually seen as an OK sign but viewed by white supremacists as an OKKK signal — honoring the Ku Klux Klan.
Tarrant, who livestreamed his massacre on Facebook, scrawled the names of other mass shooters on the weapon and left behind a disturbing manifesto in which he ranted about "white genocide" and "invaders."
The carnage has horrified the world and caused New Zealand to temporarily ask all mosques to close their doors. The country's Prime Minister Jacinda Ardern called it one of New Zealand's "darkest days."
The first mass shooting broke out at the Al Noor Mosque mosque in Christchurch, New Zealand, during afternoon prayers March 15, with eyewitnesses describing a heavily armed, military jacket-clad gunman who opened fire.
In the video streamed on Tarrant's now-deleted Facebook page, the gunman — described by the Australian prime minister as an Australian citizen and "extremist, right-wing terrorist" — was first in his car with multiple rifles at his side.
"All right," he said after starting the car. "Let's get this party started."
He appeared to be wearing military gear. The GPS were giving him directions to the mosque in the video.
He was wearing gloves with the fingers cut out and played music — at one point a song called "Remove Kebab" about ethnic cleansing — during the ride. He also played the 18th century marching song "British Grenadiers."
He then walked into the mosque and coldly and randomly began to gun people down. He went back to his car to get another weapon at one point. He then walked over to a pile of people at the mosque and shot at close range as they huddled together. "There wasn't even time to aim. There were so many targets," he said casually in the video at one point.
"Help me," pleaded a woman on the sidewalk outside when he finally left the Masjid Al Noor mosque after an agonizing six minutes or so of shooting. He walked up to the fallen woman, ignored her pleas, and shot her in the head. He got back into his car and drove off. The chilling video also showed him gunning down a man crawling to get away as music pumps through the video.
The shooter fired at least 205 times from four rifles and used multiple magazines, stopping to reload.
Tarrant also posted a link to the live video in a chat thread on an online forum, which is described by The New York Times as "one known for extremist right-wing discussion." He wrote, "Well lads, it's time to stop sh*tposting and time to make a real life effort post. I will carry out and attack against the invaders, and will even live stream the attack via Facebook."
Most of the victims were murdered at the Masjid Al Noor mosque, but at least seven more perished at a second mosque called Linwood Masjid, which was about 3.5 miles (5.6 km) away. There, several people tried to stop the gunman.
The shooter used five guns, including two semi-automatic weapons and two shotguns — weapons that were legally acquired, Ardern said.
The prime minister said the shooter had a "Category A" firearm license, obtained in November 2017, which allows the holder to obtain any number of sporting rifles and shotguns.
Shortly before the shooting, an 87-page manifesto was posted on social media under the name of Brenton Tarrant. The document was riddled with sarcasm, apparent red herrings and allusions to online meme culture, suggesting an Internet-driven evolution of nationalist hatred.
Tarrant said in the manifesto that he was traveling and "training" for the massacre for the past two years and chose Christchurch three months ago.
Tarrant described himself in the manifesto as "just a ordinary white man, 28 years old. Born in Australia to a working-class, low-income family. My parents are of Scottish, Irish and English stock." He said his childhood was normal "without any great issues."
But he goes on to say it wasn't without problems. "I had little interest in education during my schooling, barely achieving a passing grade," he wrote. "I did not attend university as I had no great interest in anything offered in the universities to study."
The ramblings mention Donald Trump (whom he has mixed feelings on), Michael Jackson, Candace Owens, and others. He said he was inspired by Charleston shooter Dylann Roof and far-right Norwegian killer Anders Breivik. Tarrant wrote that he was seeking revenge for Ebba Akerland, an 11-year-old Swedish girl killed in a terrorist attack in 2017.
"We must crush immigration and deport those invaders already living on our soil," he wrote. "It is not just a matter of our prosperity, but the very survival of our people."
Tarrant labeled himself an "eco-fascist," and added, "No group ordered my attack. I made the decision myself. Though I did contact the reborn Knights Templar for a blessing in support of the attack, which was given."
To residents of his hometown, Tarrant seemed a "relatively normal" person. He had no criminal history in New Zealand or Australia and had not drawn the attention of the intelligence community for extremist views.
Tarrant's father, Rodney Tarrant, a bin collector, died of cancer at age 49 in April 2010, according to an obituary in The Daily Examiner in Grafton. He was described as a "dedicated family man" and "competitive athlete." According to the obituary, Tarrant's father separated from his mother when he was young.
Tarrant spent his high school years in Grafton and was often on his computer, said Marie Fitzgerald, Tarrant's 81-year-old grandmother.
"He spent most of his time on computers, and learning the in and outs of computers, and playing games on computers," she told 9News.
"I don't think girlfriends were on the agenda — he said getting married was too hard."
Tarrant's family is currently "assisting and cooperating" with investigations from Grafton, nearly 400 miles north of Sydney, local police told CNN.
He used to work at the Big River Squash and Fitness Center in the northern New South Wales town of Grafton, Australia.
Gym manager Tracey Gray, who employed Tarrant for several years in the late 2000s, told CNN affiliate Nine News that she was shocked by his alleged role in the attacks.
He was "as normal as one person as to the next," Gray said. "He never showed any extremes of extremist views or any crazy behavior."
Gray wondered whether Tarrant might have been radicalized during a trip to Europe and Asia in the early 2010s.
"I can't believe that somebody I've probably had daily dealings with ... would be capable of something to this extreme," Gray added.
Tarrant had traveled to Turkey multiple times and "spent an extended period of time in the country," a senior Turkish official told CNN on Saturday.
He also recently traveled to Bulgaria, Romania and Hungary, Bulgarian prosecutor general Sotir Tsatsarov told journalists, according to state news agency BTA. In 2016, Tarrant visited Montenegro and Serbia, Tsatsarov said.
Tarrant is also believed to have spent time in northern Pakistan. Speaking to CNN on Saturday, a hotel owner in Pakistan's northernmost Gilgit-Baltistan region said Tarrant had visited his hotel in October 2018. The hotel owner, who did not want to be named for security reasons, described Tarrant as a "regular tourist."
"All I remember was that he was a fan of local food. He would leave the hotel in the morning and would come back in the evenings," he said. (SD-Agencies)