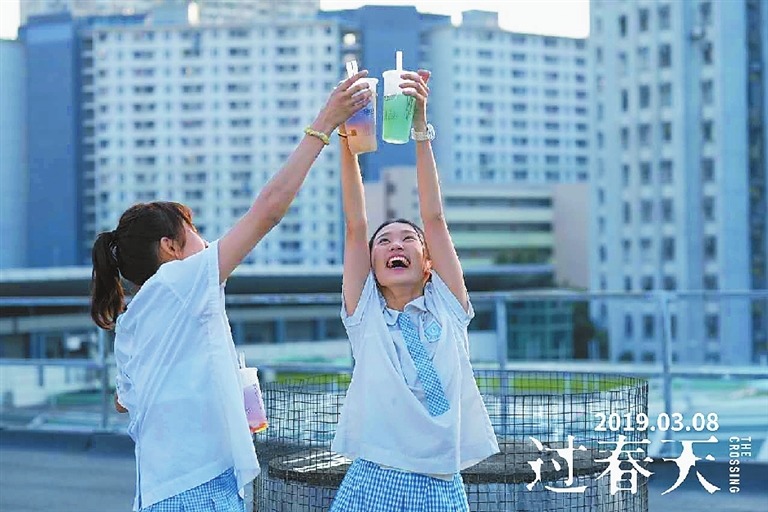 Starring: Huang Yao, Sun Yang, Ka-Man Tong, Ni Hongjie, Elena Kong, Liu Kai-chi, Jiao Gang, Director: Bai Xue
IT has been more than two decades since Hong Kong's return to China while maintaining its own political system, autonomy, currency and, generally speaking, way of life. The neighboring Guangdong Province has seen huge economic development since then, but another phenomenon is on the rise. There are a large number of people who commute on daily basis and therefore have a double identity of sorts. That topic needs to be addressed also in cinema, and mainland first-time filmmaker Bai Xue does it in a stunning fashion and with a lot of style in her feature debut "The Crossing" ("Guo Chun Tian").
The film premiered at last year's edition of the Toronto International Film Festival to a warm critical reception and was shown on home turf at the Pingyao International Film Festival, where it scooped a couple of awards before heading to its European premiere at Generation 14plus sidebar of Berlinale.
The secret of its uniqueness is the angle its writer-director takes, which is completely non-political. The trick she pulls is an old one, but it serves the purpose: she chooses a 16-year-old girl as his protagonist. Her name is Peipei and she is from Shenzhen, but goes to school in Hong Kong. Since she has always wanted to see the snow, she wants to go to Japan with her best friend Jo for the next winter holiday season and she has to work for it.
Her minimal-wage waitressing job does not pay that well, so she falls in with a crowd of teenage smugglers led by the motherly figure Mrs. Hua, to whom she is introduced by Jo's boyfriend Hao. For their iPhone smuggling scheme, she is a perfect asset: nobody suspects a girl in a high school uniform who commutes daily, but sooner rather than later her life of crime will affect her relationships with the people in her environment on the both sides of the (administrative) border.
The choice of the protagonist's age is not just utilitarian in the way it avoids inconvenient political questions, but it also opens more universal dichotomies in terms of age and class. Sixteen is the age when most of the people in Hong Kong start working, at least part-time, which changes their perception of life more to the adult side.
Put it in a simple way, a mainland student in Hong Kong school is considered a bit posh at her hometown, while on the other side of the border she has to face her classmates who are more affluent than her and their lifestyle she can neither afford nor imitate.
Also, the script finds just the right tone regarding Peipei's family situation, making her father a largely absent hard-working man and her mother absent-minded casual alcoholic and party woman.
The casting choices Bai makes are also on the money. That especially goes for Huang Yao, who plays Peipei, for whom the role is a screen debut after some experience on the stage. The actress is proficient in both Mandarin and Cantonese, which is necessary for the role. Her naivety cannot be faked, and that also goes for her uneasy chemistry with her co-stars, mainly Sun Yang as Hao and Ka-Man Tong as Jo, while Elena Kong fits the role of Mrs. Hua perfectly, finding a perfect balance between a menacing and warm presence.
But the people are not the only characters in this story. The cities are also elevated to that level. With the help of his DOP Piao Sangri, Bai employs different styles in portrait of both of them, highlighting the verticality of Hong Kong and busy feeling of its streets and alleys, while Shenzhen is caught in longer and wider takes, insisting on the calmness of the landscape where the protagonist feels at home.
Combined with controlled pacing (kudos also to the editor Matthieu Laclau whose work we got to see on recent Jia Zhangke films from "A Touch of Sin" onward), "The Crossing" is a complex film that tackles a number of topics with surgical precision, while keeping its heart at the right place.
The movie is now being screened in Shenzhen.
(SD-Agencies)