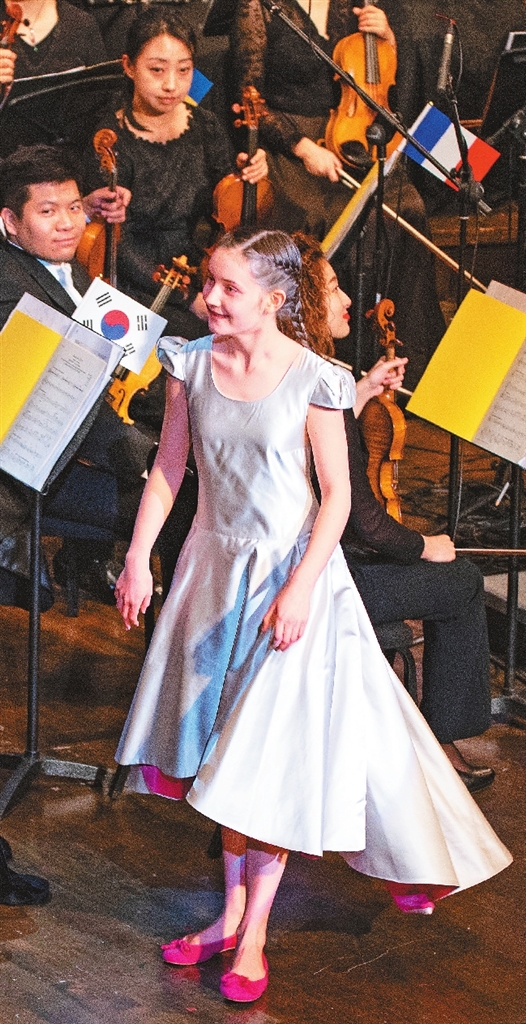 Chen Xiaochun
654789759@qq.com
Fourteen-year-old Alma Deutscher, who was praised by great conductor Zubin Mehta as a prodigy, thinks improvising is a fun and important way of learning composition.
Deutscher, said to be the youngest composer, pianist and violinist alive today, is now in Shenzhen for the 2019 Shenzhen Belt and Road International Music Festival. She performed in the opening concert of the music festival on Sunday and will perform her solo concert for an audience in Shenzhen tonight.
Though only 14 years old, Deutscher has demonstrated great talent for music. She composed her first piano sonata at the age of 6, her first full-length opera, "Cinderella," at 10, and her first piano concerto at 12. Just a couple of days ago, Deutscher composed a new Viennese Waltz.
"When I was about 4 years old, I would just sit down at the piano and play the ideas that I had in my head. I didn't even know it was called 'composing.' I didn't write them down. I just had some melodies and I would improvise some simple things on the piano," Deutscher told the Shenzhen Daily.
Deutscher started with this method of learning composition, which is really fun for her because it's all about improvising.
"Of course it starts very simple, and then it gets more and more interesting. That's also a really fun way of learning to compose because every time you play it's a little bit different," said Deutscher.
When she was 5 years old, she started to learn how to write musical notes down on paper. One interesting thing about Deutscher is that she has made an imaginary country called "Transylvania" where she has lots of imaginary composers. "Quite often they compose some very beautiful pieces. Sometimes I like a piece so much that I take it from them and use it for myself."
For the future, Deutscher told the Shenzhen Daily that one of her dreams is to set up a music academy. "The academy is not just to teach the students how to play the piano or the violin or an instrument, but actually how to compose. I will have it near a lake in Austria where Mozart's mother was born. Maybe I could have a branch in China because lots of people say that the future of classical music is in China."
Even with her great talents, Deutscher still maintains that goals cannot be achieved without a lot of work. "If you just have talent and you don't work at all, then you can't do anything. I think it's also important working hard and trying to enjoy it and to have fun when you play."
The young composer does not attend school but receives her education at home from her parents. She travels and performs around the world extensively.