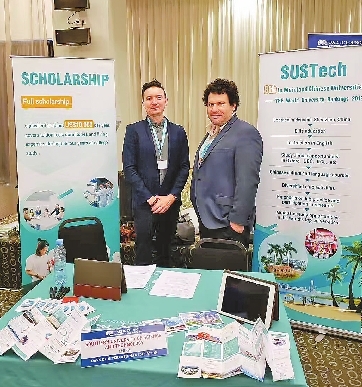 Matthew Jellick, Southern University of Science and Technology
A confluence of ideas from around the globe shapes our collective thoughts, widens our worldviews and reconstructs our ideals when we are introduced to them through the arena of education.
Learning itself is a gateway to the larger world, and when that constructive platform is inundated with differing approaches, it helps to develop critical thinking skills, which in turn create a deeper self-awareness of who we are.
I recently had the opportunity to go on an international student recruitment trip to the Baltics, including the countries of Lithuania, Latvia and Estonia, on behalf of Southern University of Science and Technology (SUSTech).
Aiming to get these international students to apply to our programs which specialize in STEM-related subjects, I found myself espousing not only the virtues of my university, but similarly, the creative culture of Shenzhen.
Introducing a student from Tallinn to the prospect of spending four years in China can be complicated, but when put into the globalized context in which we currently find ourselves, it begins to make a lot more sense. No longer is there a separation between Europe and Asia, but rather, a striving for cohesiveness, understanding that shared ideas create joint solutions, and that together, we can achieve more.
It is within these international frameworks that the benefits of study-abroad programs showcase their merit, highlighting not the differences, but rather the similarities in how we, as individuals, can work together to solve global problems. From a scientific approach, the levels of achievement within Chinese universities oftentimes act as a benchmark, and when paired with the entrepreneurial and innovative opportunities of Shenzhen, a perfect match is established.
Yet as more and more international companies, universities and people move here, it is important to integrate their unique perspectives into this development, as the diversity in their approaches aren't wrong, just different.
The structure of education is constantly changing, and with good reason, as we try to keep up with the rapid development happening in the world around us.
Rote memorization and criticism of pronunciation should be sidelined for interactive learning and content-based instruction, incorporating creative elements which mirror the international boardrooms and laboratories we hope to prepare our students for. And, to be able to bring students from the Baltics, for example, helps to expand the discussion in the classroom, adding layers of analysis which is needed in a constructive learning environment.