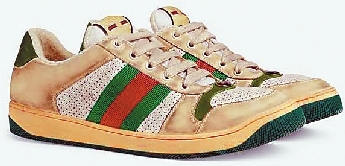 GUCCI has released new distressed sneaker styles for spring '19, and people have some strong opinions about them.
The Screener shoes feature classic elements from the brand: green and red stripes, and "Gucci" imprinted on the back. The kicker of these sneakers, though, is that they're made to look dirty but come with a high price tag.
The brand describes the style as "treated for an allover distressed effect" and is selling four different versions, two for men and two for women.
Previously, the vintage-inspired look was mocked on social media when Gucci released the "dirty" shoes as part of its cruise '19 collection, but now they're available in new silhouettes and design treatments.
The women's Screener Strawberry sneaker retails for US$980, while the version with cherries costs US$1,250. For men's, the Screener leather sneaker is US$870, and the GG high-top retails for US$930.
Still, the Twitterverse wasn't impressed with the offering, creating a torrent of comment about the designer kicks. One user, Danny Casolin, described them as "fashion in all its glory and stupidity."
User Sid Balachandran called out the "shoe care" for the Screeners, which ironically says to use "only neutral or same-color products to avoid staining."
Another user, Julie Marcus, made a joke saying she is just going to let the ones she already has get dirty and tell everyone it's exclusive.
Although the shoes may seem completely ridiculous, they aren't exactly a novel idea.
High-end Italian clothing brand Golden Goose was criticized last year for "mocking poverty" with its dirty, taped up "Superstar" shoes, which sold for US$530.
Gucci's shoes are a familiar take on a popular fashion trend.
Distressed jeans are also purposely made to look old. They often feature rips, holes, frayed hems and artificially added wear marks.
They're also embraced by mainstream consumers and can be found everywhere from Beyonce's Instagram page to the display window of your local Gap.
Let's just hope the next item of clothing to get the dirty or distressed treatment isn't socks.
(SD-Agencies)