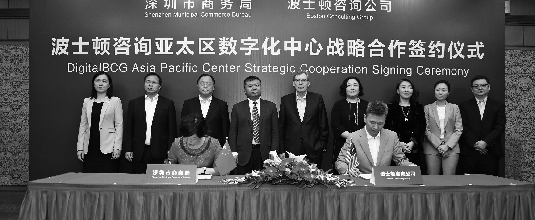 Zhang Yu
JeniZhang13@163.com
GLOBAL management consulting firm Boston Consulting Group (BCG) has decided to set up its DigitalBCG Asia Pacific Center in Shenzhen. The design and decoration of the center has started and it is scheduled to open this October.
BCG and the Shenzhen Municipal Commerce Bureau signed a strategic cooperation framework agreement in Shenzhen on Saturday.
According to the agreement, the center will become a big data analysis base, a digital innovation incubator and a digital solution exhibition hall of BCG in the Asia Pacific region.
As one of BCG's regional digital centers around the world, it aims to leverage the company's own data analysis methods and tools to customize digital transformation strategies for customers.
It also strives to provide digital transformation services, including data analysis, artificial intelligence, industry 4.0, IT architecture, customer journey re-engineering and digital architecture.
"We decided to set up the center in Shenzhen because the city has a lot of innovative talents who can break the boundaries of different fields," said Hans-Paul Burkner, chairman of BCG, at the signing ceremony.
"We also want to form a diversified team of digital experts and provide the latest solutions for Chinese and global enterprises, governments and public institutions in the digital era," Burkner said.
As digitalization has profoundly affected the global business world, BCG has taken the initiative in establishing digital centers in San Francisco and Paris in order to better meet the needs of customers in digital transformation.
A new digital center is also being prepared in New York at present, according to the company.