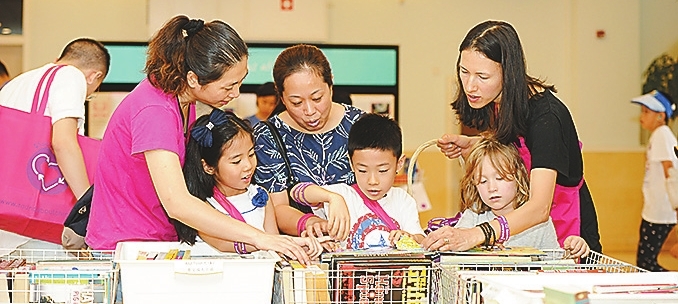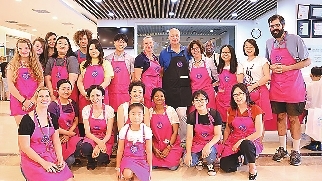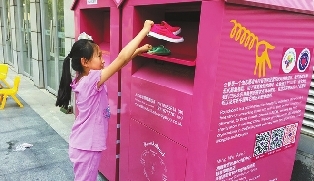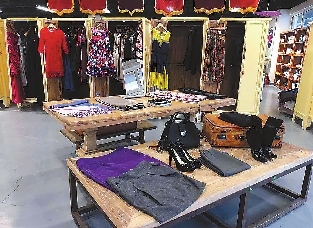 ANOTHER vintage and designer boutique has opened in the posh northern part of Beijing, a city enthusiastic for luxe.
From designer gowns and red carpet heels, to luxury handbags and vintage jewelry, the inventory seems no different from any other high-end shop specializing haute couture.
But it is different. The entire collection, including the artisan décor in the store, comes from donations, and revenues will go to people in need.
It is a stylish addition to Roundabout, China's first charity distribution store, to raise funds for vulnerable social groups — orphans, children with critical sicknesses or physical challenges, women, the elderly, earthquake victims, and more — and to connect those who want help those in need.
Roundabout works to promote the eco-conscious lifestyle of the 3Rs — reduce, reuse and recycle — with its free pick-up service over the capital city, its thrift shop, boutiques and warehouse, said Charlotte Beckett, the charity's volunteer director.
"We hope to create a charming place where people feel good and have a pleasant experience when they step inside — whether to buy a gift for a loved one or to find something they need — so they would like to come back," she said.
To recycle, reuse or repurpose the recyclable instead of letting useful materials end up in landfill is the future, and China will not fall far behind the trend, she said.
A decade of love
Beckett stumbled into Roundabout looking for a toaster. It happened in the first week after she moved to Beijing with her family seven-and-a-half years ago.
For her and many other expatriates in Beijing, Roundabout is a bridge through which they stay connected to society, and a bridge between those who need help and those who are willing to provide it.
According to her fellow volunteers, Beckett has brought class to the charity.
Besides the Vintage and Designer Shop, she helped open Roundabout Boutique, a consignment shop for local craftspeople to sell handmade wares with 30 percent of sales going to people in need, and a community center for fundraising events and social gatherings.
Ever since the first encounter, she has not only been a regular customer but also became director about two years ago.
The idea for China's first charity shop was born in 2007 when Roundabout's British founder Leslie Simpson came up with the business plan to create a central charity store that would accept donations, sort them and make them available to any charity that needed them, with surplus items being sold in a Goodwill-style outlet to cover running costs and help pay for medical procedures for children in the homes.
In October 2008, Roundabout officially opened with support from both local and international communities in Beijing.
Donations started flooding in within a few months and truckloads of supplies left the warehouse on a weekly basis heading as far as quake-stricken Qinghai and to impoverished mountain villages in Yunnan, said Simpson in a note commemorating the charity's 10th anniversary.
Charity has no borders. For example, Roundabout's humanitarian aid was delivered to Nepal after the massive earthquake in 2015.
Simpson was awarded the Order of the British Empire (OBE) in 2013 for her services to charity and philanthropy in China.
In 2011, Becky Wang, a Chinese volunteer who is fluent in Mandarin and English, joined the cause and became Roundabout's Chinese voice.
With Wang onboard, Roundabout has been engaging more and more Chinese individuals, enterprises and institutions, and it has become a platform where expats and locals, schools and embassies, and social groups can get involved in raising funds, volunteering and providing assistance.
At the end of 2013, Simpson and her family left China with their Chinese foster daughter Emma, and her friend and co-founder Mary Kate Brown became director alongside Wang. In late 2017, after Brown left China, Charlotte Beckett took over as director.
Expats come to China and leave, but the support for Roundabout continues. New volunteers are being prepared for charity efforts to grow stronger and better.
"It has been a relay of love and dedication," Beckett said.
The Roundabout family
Stepping into its 11th year, Roundabout has become a social enterprise under the China Charities Aid Foundation for Children, with its operations divided into three categories: Charity distribution (online and offline), aid programs for those under-served in society, and a community platform to engage a dedicated community with people from all walks of life.
In the beginning, Roundabout mainly helped orphans from local orphanages and medical foster homes. As it grew, the project broadened its scope to help children from impoverished families facing large medical bills, Wang said.
Currently the medical and educational aid program covers a wide variety of conditions and illnesses and sponsors school kids from disadvantaged communities in partnership with local hospitals and partner charities.
In 2018 alone, Roundabout raised funds for 249 children from 23 provinces and regions in China to get medical treatment for their critical health conditions and for over 20,000 children to receive educational aid.
Since 2016, Roundabout has been designating over 10 million yuan (US$1.49 million) on a yearly basis to medical and educational aid programs, partnering with over 80 charities in Beijing and across the country, according to Wang.
In addition to providing aid to children, Roundabout also has been donating money and supplies for an elderly community in Hebei Province since 2009. From 2015 to 2017, over 737,000 yuan worth of clothes, food, coal and necessities were donated to the village.
A total of 206 charity sales events, including charity concerts, book fairs, guided hikes, cultural activities and workshops, were held last year.
Last month, a charity book fair was held between Roundabout and an international school in Beijing. School children and their families as well as other participants donated and purchased books to raise over 40,000 yuan for Rui, a 3-year-old girl with leukemia from Shaanxi Province.
"We have been growing in the eyes of the local community who has placed trust in us and has been supporting our charitable efforts generously and with enthusiasm, for which we are grateful," Wang said.
Among the supporters, 4,000 volunteers — men and women, young and old, Chinese and foreign — dedicated over 24,000 service hours to Roundabout programs from 2016 to 2018.
In 2018 alone, over 2,000 volunteers contributed time and talent to the cause, aged from four to 82 years old.
"It is more than a full-time job," Wang said. "Our volunteers including myself often work over 15 hours a day, seven days a week."
"Being on the Roundabout Team was the best part of my stay in Beijing," wrote Tanja Scheulen, former volunteer and bookkeeper, in congratulations on Roundabout's 10th anniversary in October last year. She had spent five years in Beijing and for three of them she volunteered at Roundabout.
"We were part of an international family, a family that worked together as a strong team to help children in need. No one cared about your nationality, your language or your skin color. Each person was important and could help," she said.
(Xinhua)