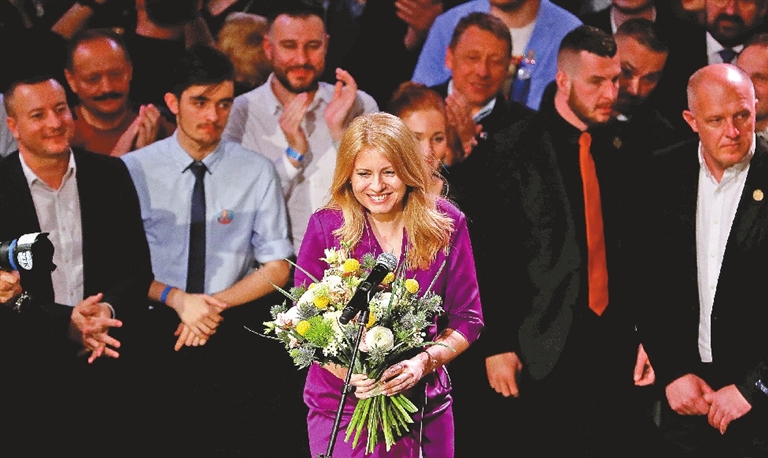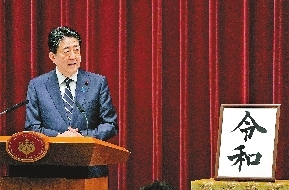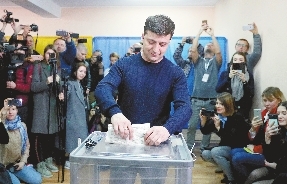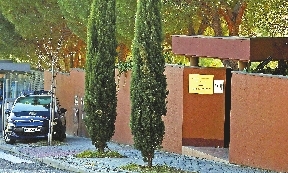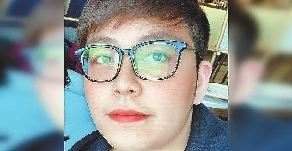 Caputova elected Slovakia's first female president
Slovakia's presidential candidate Zuzana Caputova receives flowers at her party's headquarters in Bratislava, Slovakia, on Saturday. Caputova, a vocal government critic and anti-corruption activist, will become Slovakia's first female president after provisional results showed her winning Saturday's run-off election. The 45-year-old said that the outcome was a sign that "you can win without attacking your opponents."SD-Agencies
Reiwa: A new imperial era name for Japan
Japan on Monday revealed the name of the era that will define the new emperor's reign when he ascends the Chrysanthemum Throne next month following a historic abdication*.
The new imperial name consists of two characters: "Rei," which can mean "order" but also "auspicious" and "Wa," usually translated as "peace" or "harmony."
After weeks of fevered speculation and top-secret discussions, the two kanji* characters were unveiled to reveal a name that will last as long as new emperor Naruhito's rule.
Comic's lead in Ukraine elections confirmed
A comedian* with no political experience raced ahead in the first round of Ukraine's presidential election on Sunday, offering a fresh face to voters fed up with entrenched* corruption in a country on the frontline of the West's standoff with Russia.
With over half of all ballots counted by Monday morning, 41-year-old Volodymyr Zelenskiy, who plays a fictional president in a popular TV series, held a comfortable lead over incumbent* President Petro Poroshenko in a vote deemed largely free and fair by the national electoral commission.
A crowded field of 39 candidates has now shrunk to just two, with Zelenskiy and Poroshenko set to go head-to-head in a second round run-off on April 21.
N. Korea says embassy raid was a 'grave terrorist attack'
A break-in at the North Korean embassy in Spain last month was "a grave terrorist attack," a representative from North Korea's foreign ministry said on Sunday in the North's first official comment on the incident.
The foreign ministry representative also called for an investigation and said North Korea was closely watching rumors that the U.S. Federal Bureau of Investigation (FBI) and an anti-North Korea group were behind the raid.
Missing student found after being kidnapped in Canada
A Chinese student who was attacked with a stun gun and kidnapped in Canada has been found unharmed, police said.
Wanzhen Lu, 22, was seized on March 23 from an underground parking garage by four masked men. Police had been searching for him, but only succeeded in tracking down the car used in his abduction.
"On Tuesday, March 26, 2019, shortly before 9 p.m., a man walked up to a residence on Doe Lake Road in the town of Gravenhurst in Ontario, looking for help," police said .
Trump cuts aid to 3 Central American nations
Taking drastic action over illegal immigration, U.S. President Donald Trump moved on Saturday to cut direct aid to El Salvador, Guatemala and Honduras, whose citizens are fleeing north and overwhelming U.S. resources at the southern border.
The State Department notified Congress that it would look to suspend 2017 and 2018 payments to the trio of nations, which have been home to some of the migrant caravans* that have marched through Mexico to the U.S. border.(SD-Agencies)