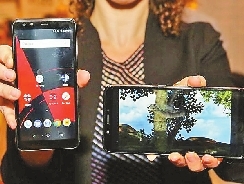 Two low-cost smartphones which show 3-D films without the need for glasses have been revealed. The firm behind the devices has curated an exclusive database with original 3-D films and TV shows, as well as access to Hollywood blockbusters.
Rokit, a U.S. telecommunications company, claims it has refined the 3-D display to avoid the issues of eye strain, nausea* and general discomfort. Its flagship product, the IO 3D Pro, costs only US$299.99 and the budget version — the IO 3D — costs US$199.99. Rokit has also integrated a life service bundle with the handsets which provides insurance and medical services.
Rokit is the brainchild of philanthropist* and business innovator John Paul DeJoria and British entrepreneur* Jonathan Kendrick. The firm has a range of five phones which start at US$34.99 but its most advanced handsets are the only ones with 3-D capabilities.
The Rokit IO 3D is equipped with a 5.45-inch display capable of 720p* resolution* and boasts a modest but serviceable 16GB* of memory and 2GB of RAM*. Its big brother however, has a 6-inch screen, 1080p resolution and 64 GB data with a better battery, processor and camera capabilities. Kendrick said: "We could have put more memory in, but we wanted to keep the price below US$300."(SD-Agencies)