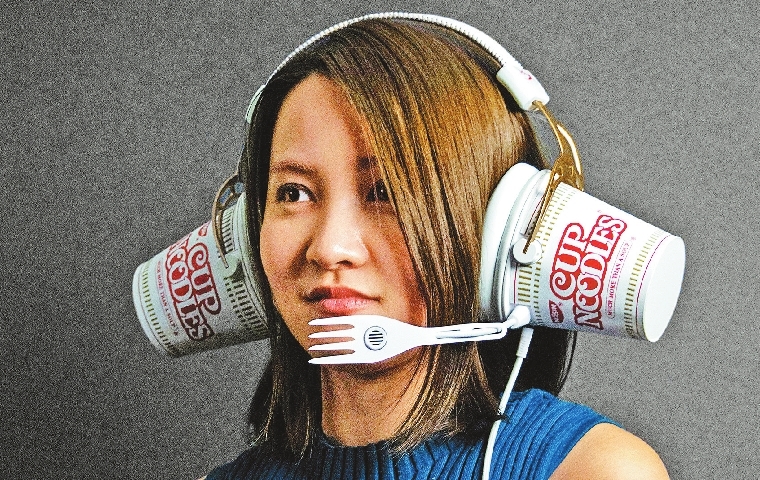 In a first-of-its-kind headphone collaboration, Nissin Cup Noodles and HyperX have introduced the HyperX Cup MIX-IN, a groundbreaking headphone specially designed to create the ultimate sensorial experience while eating cup noodles.
To ensure maximum comfort, the headphones offer white memory foam ear pads, coupled with a headband and the Noodlette. As an extension of HyperX's Leatherette ear pad, the Noodlette ear pad is woven together with fibers, delivering the silky soft caress. HyperX's groundbreaking technology is taken to even greater depths with the Dual-Chamber Drivers, offering the largest chambers on the market. With one chamber for bass and a separate one for mid and high volumes, listeners can experience even more distinction and less distortion.
To create a seamless experience for gaming fans, Nissin and HyperX eliminate* the slurping reverberations* of eating cup noodles that often interrupt crucial video game streams. Now, the detachable noise-cancelling Microphork allows gamers to enjoy their cup noodles, while still providing a clear, high quality line of communication to their teammates. Gamers can easily detach the fork to slurp on cup noodles while simultaneously* playing the video game.
Just in time for April Fools' Day, Nissin was selling the limited-edition headphones on NissinFanStore.com which shows "sold out" now. But this will not be the end of the collaboration between Nissin and HyperX, as the two companies are in talks to develop a full gamer set, including a heated mousepad to keep players' cup noodles warm during marathon gaming sessions.(SD-Agencies)