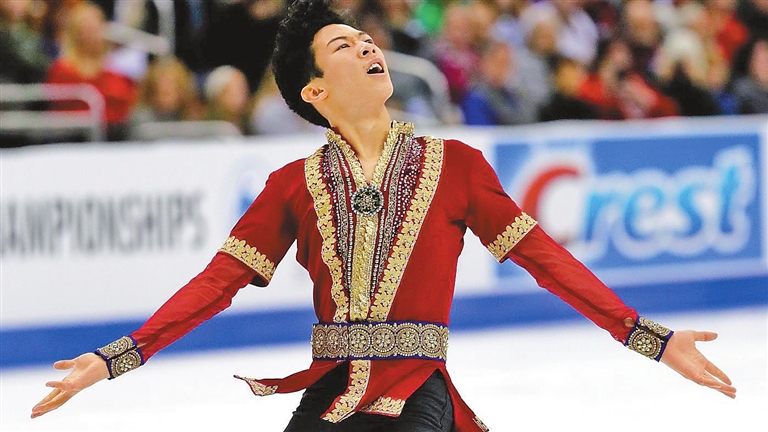 The question, inevitably, on the Yale campus last week as classes resumed was: "What did you get up to over spring break?" No one had an answer quite like Nathan Chen's.
The American figure skater — and Yale freshman — traveled to Tokyo in mid-March to capture his second consecutive world championship, this time triumphing over two-time Olympic gold medalist and Japanese hero Yuzuru Hanyu on home turf. While it's not Chen's first win over Hanyu, it is his biggest (Hanyu missed the world championship last year) and has many inside the sport believing that this is a rivalry that could build to — and explode at — the 2022 Winter Olympics in Beijing.
The 19-year-old Chen, armed with a myriad of quadruple jumps, has passed Hanyu on the technical front, but also blossomed artistically. Hanyu, known to be one of the great artists in modern-day skating, edged Chen out by just 1.35 points in their components scores at worlds. Chen, however, won the event by 22.45 points.
At such a young age, Chen has already left his mark on figure skating by becoming the first man to land five quadruple jumps in one program, and winning the World champion twice (2018, 2019), the 2018 Winter Olympic bronze medal in the team event, the 2017 U.S. championship, a Four Continents Championship and a Grand Prix Final championship. Not only that, he is the first — and currently the only — figure skater competing with five different types of quadruple jumps: the toe loop, Salchow, loop, flip and Lutz.
Chen is the youngest child of Chinese immigrants who moved to the United States in 1988 and raised their family of three sons and two daughters in Salt Lake City. His father, Chen Zhidong, grew up in a rural Chinese town and is a medical research scientist. His mother, Hetty Wang, grew up in Beijing and is a medical translator. They always emphasized education to their children. "An athlete can only stay in a career for a very short time," Wang said. "Education can last a lifetime."
Chen said his parents' background was a big influence in his life. "There are a lot of cultural differences between Americans and Chinese, and I think that having both aspects be part of my life has helped me in a lot of ways, from an academic standpoint to an athletics standpoint," Chen said.
Chen started skating at age 3 with the original goal of becoming a hockey goalie. While he doesn't remember his first time on the ice, his mother says he was so captivated by the experience that he wept when forced to exit the rink for the Zamboni machine. "He didn't want to leave," Wang said. "He just stood there and cried and cried."
Chen had many interests off the ice as well. He danced ballet, played the piano and performed gymnastics. But he grew to love figure skating and soon became exceptional.
How Chen's college schedule will change as the Beijing Games grows closer remains to be seen. However he will return to the rigors of Yale, where he has said he'll focus his studies on pre-med. This semester includes an abnormal psychology class, and his training routine is executed alone, often with coach Rafael Arutunian watching on FaceTime some 3,000 miles away in southern California.