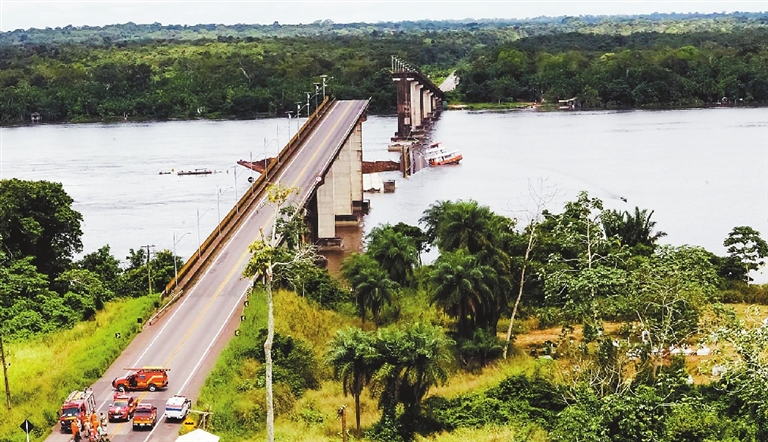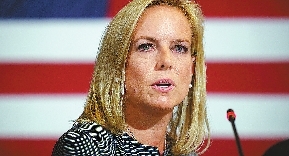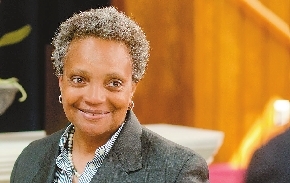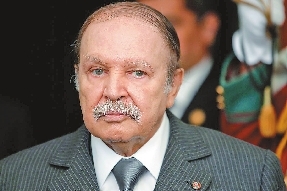 Ferry hits bridge, sending roadway, cars into river
A bridge over the Moju River is seen after collapsing and potentially affecting the shipment of grains, such as soybeans and corn, through northern ports at the Alca Viaria complex on Highway PA-483 in Acara, Para state, Brazil, on Saturday. A ferryboat* collided with a bridge pillar in Brazil's Amazon region on Saturday, causing the span's central roadway to plunge into the Moju River along two cars and cutting a highway to one of the country's busiest ports.SD-Agencies
Trump's head of Homeland Security resigns
U.S. Homeland Security Secretary Kirstjen Nielsen resigned on Sunday amid President Donald Trump's growing frustration and bitterness* over the number of Central American families crossing the southern border.
Trump announced on Sunday in a tweet that U.S. Customs and Border Protection Commissioner Kevin McAleenan would be taking over as acting head of the department.
The decision to name a top immigration officer to the post reflects Trump's priority for the sprawling department founded to combat terrorism following the September 11 attacks.
Leader of new Thai political party charged
The leader of a popular new Thai political party that ran a strong third in last month's general election was formally charged with sedition* on Saturday and expressed concern that he is to be tried in a military court.
Thanathorn Juangroongruangkit was greeted by hundreds of supporters chanting "Keep fighting, Thanathorn!" as he arrived at a Bangkok police station to answer a summons on complaints of sedition, assisting criminals and illegal assembly filed by a member of the country's ruling military junta*. He denied the charges, which carry a prison sentence of up to nine years.
Black, gay woman elected Chicago mayor
Chicago on April 2 became the biggest U.S. city to elect a black woman its mayor, as voters put their faith in an openly-gay political novice to tackle difficult problems of economic inequality and gun violence.
Lori Lightfoot, a 56-year-old former federal prosecutor and practicing lawyer who has never before held elected office, won the Midwestern city's mayoral race in a lopsided* victory.
She beat out Toni Preckwinkle, a career politician who is also black, by a wide margin of 74 to 26 percent with most ballots counted.
Algeria's president resigns
Algeria's longtime President Abdelaziz Bouteflika ended his term as ruler of the North African nation, state media reported on April 2, following weeks of mass protests that called for the end of his almost 20-year tenure.
Bouteflika's resignation came one day after he said he would end his fourth term before it was set to expire on April 28.
Suspect in kidnapping of Chinese student surrenders
One of the four men suspected of kidnapping a Chinese national student in the Toronto area in Canada last month has turned himself in to police, York Regional Police said on April 2.
The suspect named Abdullahi Adan surrendered to police overnight after York Regional Police issued a Canada-wide warrant for his arrest on April 1.
Adan, who is the first of four suspects identified by police, is facing four criminal charges including kidnapping, forcible confinement*, assault with a weapon and assault.
(SD-Agencies)