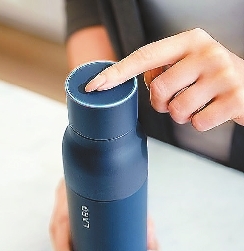 A San Francisco startup* is hoping to offer a convenient solution with what it says is the world's first self-cleaning water bottle.
The US$95 LARQ bottle uses patented UV-C* microchips built into the cap to purify your water and sterilize* the inside of the container no matter where you are, according to the company.
The bottle itself is sleek and durable, and it keeps liquid cold for hours on end. It doesn't leak, so you can toss it in a bag. But most importantly, it zaps bacteria and viruses that typically thrive in moist environments.
After three weeks of daily use without any additional cleaning beyond its own built-in capabilities, the bottle never once developed a muggy smell.
LARQ uses patented UV-C technology to quickly eradicate bacteria and viruses.
The 280 nanometer UV light emitted by the cap taps into the same photochemical reactions* used by hospitals to sterilize the surfaces in patients' rooms.
"When UV light is absorbed, it breaks the DNA's chemical bonds and kills bacteria or viruses," the company explains.
It purifies without a filter, mercury, or ozone, making it the "world's only mercury-free portable water sanitation system," according to LARQ.(SD-Agencies)