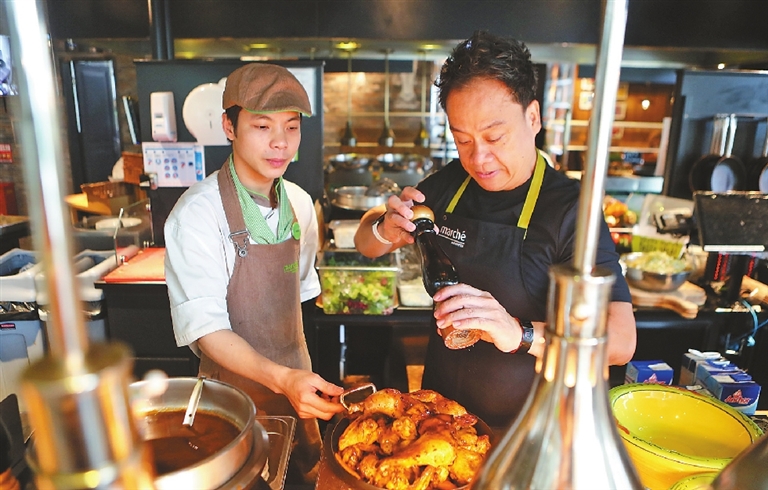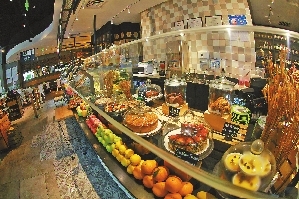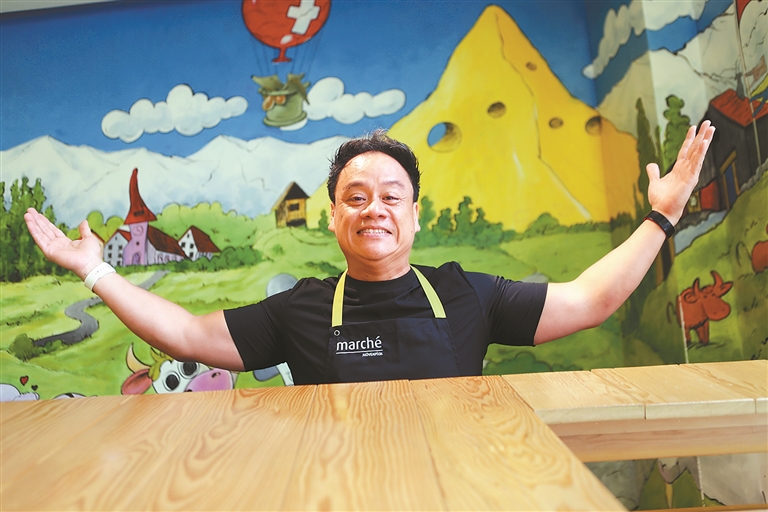 Wang Jingli
wangjingli0715@163.com
TONY LEONG is the general manager of Marche Movenpick, a Swiss brand restaurant located at the UpperHills shopping mall in Futian District.
However, if you run into him at the restaurant, you might mistake him for a server. Just when the interview was about to start, two guests, who seemed to be repeat customers, walked into the restaurant. Leong greeted them with a smile and welcomed them to the restaurant.
He told the Shenzhen Daily that he wants to be friends with his customers and a mentor for his staff.
Born and raised in Singapore, Leong started working at a hotel while studying at the age of 16, and he learned to cook by the age of 20. He has been stationed in different parts of the world, including the U.S., Indonesia, Malaysia and Hong Kong, to open restaurants for his previous franchises.
In 2018, he was dispatched to Shenzhen to prepare the first Marche Movenpick restaurant in China. "The reason that we chose Shenzhen for the Marche Movenpick flagship store is because we believe in the city's potential. As you can see, Shenzhen has been gaining a lot of steam over the past decades, growing from a fishing village to one of China's most successful and powerful cities in terms of its economic achievements," said Leong, adding that, "I personally also like Shenzhen very much. Although Shenzhen, like many other metropolises such as Shanghai and Singapore, has a very fast-paced lifestyle, it offers places like green parks for people to slow down and relax. So I really appreciate the city's green environment."
Movenpick is a Swiss group of companies with a global presence in areas like Europe, Asia and North America. Marche Movenpick is one of their businesses, featuring a genuine marketplace atmosphere where customers can stroll between market stands and choose European-style dishes, such as the finest meat from the grill, freshly caught seafood, homemade pizza, pasta and Belgian waffles and Movenpick ice cream, as well as a selection of fresh juices, refreshing beers, coffees and wines.
"Gone are the days when customers want to just sit and order. Thus, we hope customers can not only enjoy the food but also the whole dining experience. We want them to have more interactions, either with cooks or with servers. This is what we aim to offer," Leong said when asked about the idea behind the market atmosphere.
In other words, customers are encouraged to see, smell, touch and taste at Marche Movenpick. Everyone can enjoy the smells and the sizzle as the dishes are prepared before their eyes, according to Leong.
"The name, Movenpick, was inspired by seagulls when the founder, Ueli Prager, observed them swooping in for food over Lake Zurich. Based on the German word, Mowe, for seagull, Movenpick literally means 'picking seagull.' While the other part of the name, Marche, is the French word for market. That's how we came up with the idea to let our customers pick their own food from 'live kitchen stands,'" said Leong.
Apart from enhancing the dining experience, the design also allows customers to order customized food by directly telling the cooks, who are standing in front of each stand, their special preferences.
All of the ingredients piled up in front of each stand are real, not only for decoration. "We want to ensure for our customers that everything we prepare is the freshest. Some customers even told me that their kids who had not been used to eating vegetables were willing to eat them after seeing and touching the vegetables we put there," said Leong.
As a manager, Leong believes that it is imperative to give guests a specific reason to come to your restaurant. "Don't try to be everything to everyone or you might end up being nothing to no one."
For this reason, Leong has a very clear idea about what they want to offer to customers and he also wants the staff at the restaurant to help deliver on their concept.
Asked about the biggest requirement for staff, Leong prioritizes attitude and said, "As a partner, I can help staff develop their skills but attitude is something they need to have all on their own. An employee's attitude does affect the way they treat customers, and a good attitude ensures a happy and loyal customer base, resulting in more business and higher spending from customers."
Leong's schedule is extremely busy. A typical working day starts for him at 6 a.m., when he helps the store get ready for the day of operation, and ends at 10 p.m. when the store closes. This might sound crazy to some people. However, you can easily sense his great passion for the job.
It might be true that every successful business man can balance their life and work. For Leong, it seems more like his work is also his life and vice versa. He said that he is comfortable with putting his job first, even if this means that he has to make sure he has Internet access and — if necessary — a way to be in the office 365 days a year, regardless of whether he is off or traveling.
"I am also lucky to have a close friend to share goals and ideas, and this exchange always brings inspiration for my work. I believe that the best inspiration comes from the application of ideas, not the consumption of them," Leong added.
While discussing the future plan for the restaurant, Leong told the Daily that he hopes they can have more Marche Movenpick restaurants throughout China in different parts of the cities.
"This is our first flagship store in China and we are educating our guests on our unique concept. As a successful operator overseas, but first in China, we are always trying different ways to blend into the local market in order to give a more comprehensive experience for our guests."
Leong's life motto is that People who are truly strong lift others up and people who are truly powerful bring others together.
If you still remember what he said about the role that he wants to play for his staff, you will understand the rationale behind it after hearing this.