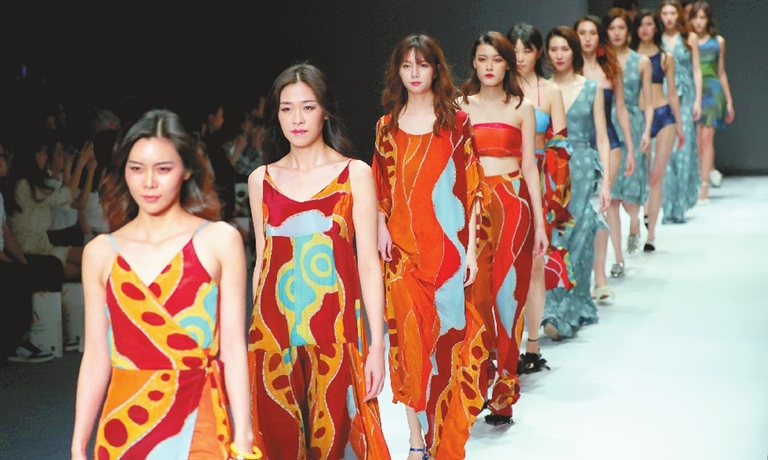 Wang Jingli
wangjingli0715@163.com
A WORLD-CLASS fashion headquarters center will be set up in Chegongmiao in Futian District, according to a development plan for the area issued by the Futian District Government.
According to the plan released in the city March 15 at the 1st Guangdong-Hong Kong-Macao Greater Bay Area Fashion Industry Summit, a key event of the 2019 Shenzhen Fashion Week, the 100,000-square-meter center will focus on introducing fashion brands and building a fashion value chain by inviting international renowned fashion media, fashion capital, fashion education, fashion technology research and a fashion buyers' ordering platform.
Chegongmiao is designed to become a fashion hub in the Greater Bay Area, housing the headquarters center and five centers with different functions — fashion distribution center, fashion value chain center, fashion talent cultivation center, life experience center and Greater Bay Area fashion exchange center.
Futian is laden with Shenzhen fashion brands, such as Marisfrolg, ELLASSAY, YINER and Koradior. In the Chegongmiao area, there are over 90 fashion enterprises, including three listed companies, with total sales volume exceeding 30 billion yuan (US$4.47 billion), the plan said.
"The development plan for the Greater Bay Area explicitly stated that Shenzhen should introduce world-class design resources to advance its fashion industry," said Qu Jian, vice president of China Development Institute in Shenzhen. "Chegongmiao has unique advantages as it is the epitome of industrial transformation and it shows the power in fashion."
In three to five years, Futian District plans to add 15 to 20 new quality fashion brands, foster 10 to 30 cutting-edge young designers, and add 15 billion yuan in annual sales and 2 billion yuan in annual tax revenue. Additionally, the district expects another three to five fashion companies to go public within five to 10 years.
"Futian District will seize the opportunity of the development of the Greater Bay Area to foster the establishment of the fashion headquarters center," said Xiong Guoxiong, head of the publicity department of the district's CPC committee, at the summit.
"We hope that, with the government's support and cooperation between cities in the Greater Bay Area, Shenzhen can become an innovative city that is influential around the world and present our powerful strength in the fashion industry," said Shen Yongfang, chairman of Shenzhen Garment Industry Association.