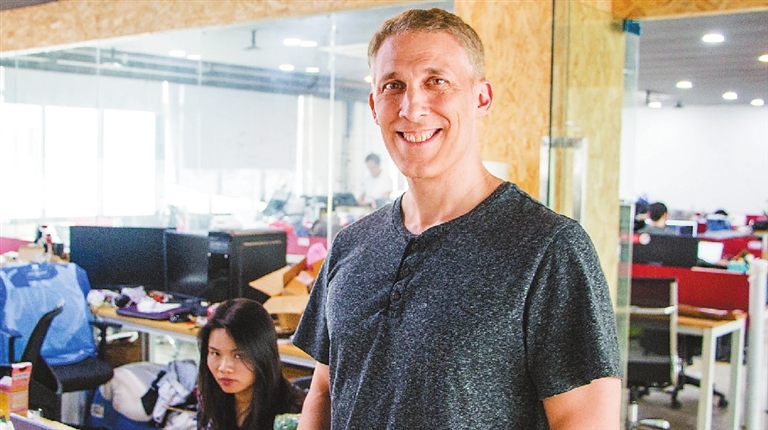 WITH his eyes still roving around the SEG Plaza electronics market in Huaqiangbei, a Dubai buyer identified as Ali has just completed a transaction with a local smartwatch dealer.
A smartwatch is not only a timepiece, but is also a wearable mobile phone and even a word processor equipped with an alphabetic keyboard. After bargaining with the dealer, Ali purchased 1,000 watches without much hesitation at the price of 800 yuan (US$119.20) each.
According to Ali, this product was launched in Huaqiangbei six months ahead of its counterparts in Europe and the United States and is sure to become a top seller.
The watch was developed by a public space called the SegMaker, and it took the team only three months to brainstorm, design, produce samples, finalize, mass produce and release the product.
A maker identified as Blake, who is from California, is one of the members of the team. He said that the research and development of such a product would usually take no less than 10 months in Silicon Valley.
Huaqiangbei has remained the No.1 business circle for trading electronic products in China after years of transformation and upgrading. In recent years, the area has boosted support to incubators and encouraged innovative and original products.
In 2018, Futian rolled out a special policy for the supply-side reform of the industrial space in the Huaqiangbei area, providing rent and interior renovation subsidies, as well as various financing incentives to fully support incubators and makers.
Blake, who has been living in Shenzhen for eight years, said the maker space in Huaqiangbei is equivalent to a one-stop solution provider and a one-stop service system.
Blake said his next product will be an intelligent flexible display. According to him, the research and development of the product will only take one-third of the time and a quarter of the cost that would be required in California.
More and more international makers have joined SegMaker, Blake said. At present, the maker space has gathered makers from the United States, Germany, Russia and other countries.
SegMaker was established by Shenzhen SEG Group Co. in 2016. It currently covers an area of 15,000 square meters. (Zhang Yu)