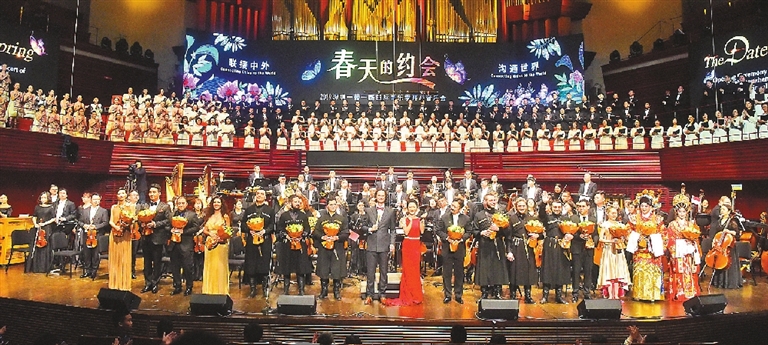 Wang Jingli
wangjingli0715@163.com
ALBEIT being dull and rainy outside, a slew of music enthusiasts gathered at Shenzhen Concert Hall in Futian District on March 24 for the opening ceremony and gala concert of the 2019 Shenzhen Belt and Road International Music Festival.
Until April 14, over 800 prominent artists from more than 40 countries and regions around the world will be putting on 21 high-end concerts at major theaters across the city for the music festival.
The gala concert was a truly global music banquet where artists from diverse cultures from home and abroad jointly delivered a brilliant performance, echoing the theme, "Connecting China to the World."
Nine-time Grammy Award winner Wynton Marsalis and bassist with Jazz at Lincoln Center Orchestra Carlos Henriquez kicked off the concert with an improvised trumpet solo performance. In fact, this was Marsalis' second performance in Shenzhen.
Marsalis previously performed with Jazz at Lincoln Center Orchestra at Shenzhen Poly Theater on March 23, where they played not only classical jazz programs like "Milestones," but also two Chinese style pieces, namely "Monkey King" and "Li Bai," an eminent poet in ancient China.
Following Marsalis, Shenzhen Symphony Orchestra played the piece, "Festival Overture" by Dmitri Shostakovich.
British music prodigy Alma Deutscher also gave a stunning performance in the opening concert. Cantonese opera artists Huang Weikun, Angel Leung and Zeng Xiaomin also graced last night's show with a high-end performance.
Sergio Sandi performed a piece, "Starry Sky for Piano, Chorus and Orchestra," composed by Ye Xiaogang, chairman of the Chinese Musicians' Association.
Additionally, Vietnam's Suc Song Moi Bamboo Ensemble and Geo Folk Tour brought exotic performances featuring their ethnic characteristics.
The festival also received congratulations from a distinguished foreign guest, Francesco Bandarin, special adviser to the UNESCO Director-General. Bandarin said in a letter of congratulations to the music festival that "Shenzhen is a member of UNESCO Creative Cities Network, with culture and creativity the soul of the city's urban development. It has achieved marvelous results in its cultural and creative programs, which have added new charm to this vibrant young metropolis."
In response to China's Belt and Road Initiative, as well as part of the city's plan to develop cultural innovations, this year's festival has received great musicians from various fields, such as classical, jazz, traditional and solo. The ticket prices have been set much lower than the market standard to make it a festival truly celebrated by the public. Residents can follow the official WeChat account, "szbrmf," or visit the website http://www.szbrmf.org for more ticket and festival information.